This weekend on Saturday at 2pm, Campbell Moorfield – Blacks Senior Co-Captain and 2022 Cordner Medalist – will run out onto the veritable TH King Oval wearing the old black and blue jumper for the 100th time. That black and blue jumper that means so much to Campbell as it does to so many of us far and wide, as is the reach of the University Blacks Football Club.
As Campbell marauds about his business this Saturday as Campbell so often does (the business of taking about 20 intercept marks and having a 4:1 kick/handball ratio), there would be few that exist among us who ever doubted 'Moorf' in bringing up this milestone. Campbell was always going to play for the Blacks for a long time and represent everything about what it means to be a Blacksm'n in spades. Naturally on the cusp of a milestone such as this, it is quite relevant and necessary to reflect on the ride so far. At risk of sounding cliché, "it's the journey that counts not the destination!"
To say that Campbell Zoltan Moorfield is a Blacker, simply does not do the man or the phrase justice. That then brings us to the point in question, what does it mean to be a Blacker; and what did a young 17-year-old Cam think it meant to be a Blacker when he first walked through the Front Bar doors of the Clyde?
Campbell grew up in Princes Hill, and much the same as any young kid in the 2000s; sport featured prominently. Supported by his parents, Daniel and Fleur, from a young age to follow his passions, if a youngster in Melbourne likes sport, you can bet they are going to turn their hand at footy at one point or another. And boy we are lucky that this young buck decided to turn his hand at footy.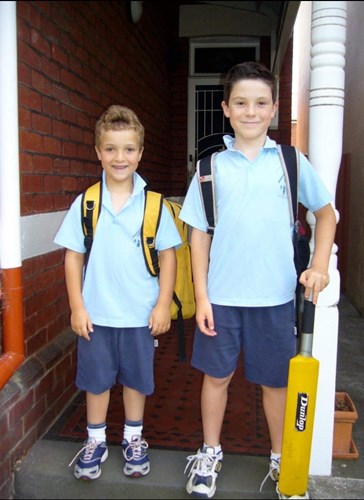 Above: A young Campbell (right) with his brother Fraser. *we have never seen Moorf hold a cricket bat since this was taken. Clearly he just loved sport regardless of what he was playing but only cares for Basketball and Football now. 
The Blacks Class of '16 were the first Blackers to meet and welcome Cam, who at the time was a shy, tall yet skinny kid that could not yet drive a car on his own. In 2016, the Uni Blacks had some truly legendary figures leading the way and were similarly led by the resolute and highly successful 2014 A Grade Premiership Coach, Cam Roberts. Littered across the Senior teams were household names like Mahon, Richardson, Drysdale, Flight, Pitt. Characters that in 2016, fully encompassed what it meant to be a Blacker; on the field, capable of the most skilful and exhilarating passages of play that would make the hairs on the back of your neck stand up; off the field even better people, would lead their mates into the wild depths of Fitzroy late at night with brazen courage and sacrifice (through their shiny debit cards), and would go above and beyond for each other in their personal lives if only they were asked.
Campbell literally grew up amongst these role models and disciples of Blacks' culture. Adam 'the Monster' Pitt recognised the raw potential and malleable clean slate that Moorf comprised of upon arrival. Pitty immediately took on responsibility for the kid, mentoring him through various chapters of the "Blacks guide on life". *Now usually this is where the writer would like to eloquently weave some quotes into the piece (just like they were taught in Year 12 VCE English), but for these words there really requires nothing to highlight the impact of the sentiment more than a good old copy and paste.*
"It was obvious to me as soon as Moorf walked into the Club, as a shy 17 year old, that he epitomised everything there is about being a Blacker. On the field, an understated, modest, tough, courageous and skillful player that put the team first. Off the field, engaged with the Club from all angles, to genuinely make it a better place and could put away pints of dark beer like a seasoned 32 year old. This is why I formalised the adoption papers within weeks of his arrival and made him my son. The achievements and accolades continue to stack up, this is just one of many more I am sure."
Moorf took to this adoption process with glee. Having Pitty take an extra-peculiar interest in him and provide counsel when talking shop on the art of defending, accelerated and solidified the process of Moorf becoming a true Blacker. A natural student and intelligent enough to have been accelerated through the traditional schooling pathways, Moorf then took up study on "what it meant to be a Blacker" at the Holy Trinity of Blacks' classrooms (Main, Tin Room and Clyde). All of which were not more than 1000m away from his home, Moorf took to studying with all his energy and without skipping a single lesson.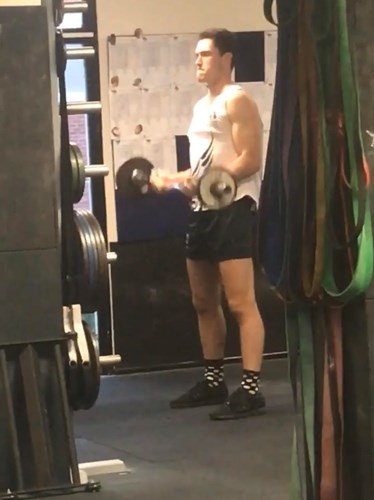 Above: Moorf doing some "Pitty curls" in the Tin Room. No prizes for guessing who taught him this bicep program.
Throughout 2016, it became clear that Moorf would be around for the long-haul; the proximity of the family home added to the fact that his actual family (parents, and younger brother Fraser) were living in Singapore for Daniel's work, meant that the Blacks had on their doorstep at every opportunity an independent and selfless kid with a decent upside on the field. By now, Cam had invited his partner Ruby into the Blacks universe and wanted to share as many moments as he could with her at the Blacks. So it has come to be that Ruby has committed to the ride as well, rarely missing a game in support and would surely be in the all-time lead circa 2023 for "Clyde sessions attended in support of one's partner."
Born in August, it was Round 18 of his first season when Campbell brought up his 18th birthday. Many 18-year-olds might want to head out with their school mates to "the clubs" and get absolutely smashed off their face during their first legal night of drinking. Not Moorf. After playing the Uni Blues and heading into Round 1 of Finals the following week, where do you think he wanted to go? To the Front Bar of the Clyde of course. To have any other option on the cards to Moorf was sheer lunacy. He wanted to be with his teammates in the Clyde, by which stage he had started to call 'my living room'.
Another life milestone in the books and after entertaining the Clyde crowd with another pint scull of Guinness (which we think he paid the price for immediately after in the form of a mad dash to the bathroom and returned with watery eyes and regret written on his face), Moorf was never turning back. After obtaining his P plates thanks to many driving lessons with Steaders (again another example of Moorf quite literally growing up with the Club), there were no boundaries as to where he could end up as a Blacker.
As time passed, Moorf cemented his position as the anchor for the Blacks defense. Throughout 2017, he ironed out some very minor wrinkles in his game (please keep in mind he was only 18 still) and played a couple of games in the 2s and Under 19s to perfect his craft and balance between defense and attack.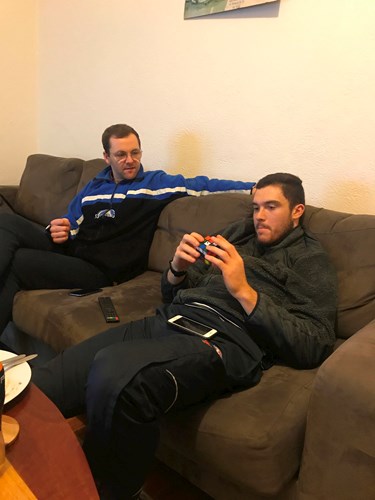 Above: Moorf is always thinking and looking for a challenge. 
By 2018, he would have been one of the first magnets thrown onto the whiteboard at team selection by Coach Roberts, who was 'all in' on Moorf being his next reincarnation of the wonderfully talented Adam Pitt (who had departed for the UK with his partner, whilst Moorf was quick to take ownership of Pitty's old number 39). Prior to the 2018 Preliminary Final vs Old Carey (yes, we know how it ended), in a 'night-before-the-game-pump-up-to-his-charges' Roberts asked "how can a 20-year-old look and play like a 30-year-old? Best intercept marker in the competition by a stretch." What started as a decent upside of being a reliable defender had turned into the potential of being the best player at the Club.
Through investing time away from the Club by hitting the Tin Room, running around Prinny about 5000 times, and a VFL Preseason with Frankston, Cam has not missed a beat. Never missing a game and never missing a Blacks event, the Club means as much to Moorf as what Moorf does to the Club. If a person were to watch any single Blacks game and be asked "who do you think their best player is", they would always respond with the same answer: "that tall defender in the backline he has had about 20 intercept marks today". That is how consistent Campbell Moorfield is.
It is not a stretch to imagine just how much planning opposition coaches would dedicate to nullifying his impact on matches, only for Moorf to still beat their system and impact the game. If not already dangerous enough in matches for the opposition, his kicking skills and offensive output has grown to be the biggest two-way threat in the back half of the VAFA. We don't think it is a stretch to say that either because it is true.
Coming back to our original proposition though, do all of these stories and history mean that the Blacks is the only thing in Moorf's life, and that is what it means to be a Blacker? Absolutely not. If it did, it would mean that he wasn't doing things his own way, another important pillar of what encompasses being a Blacker. The man is remarkably cultured, as along with Ruby, he has travelled to more countries than we could probably name or spell correctly (one of which is pictured below). He is also a textbook case of a sports tragic, basketball and Formula 1 being his leading favourites. Campbell and Ruby have bought their first home, and his career in Finance is on an upward trajectory.
Flash back to 2016 where Mahon, Richardson and co were leading the way in what it meant to be a Blacker. Come 2018, much how Moorf would have been first name onto the whiteboard at team selection, now in 2023, Moorf would be the first name picked when asked "who best exemplifies what it means to be a Blacker?" No doubt his teammates, coaches and family are all proud of him. In the space of 8 years to develop on and off the field into a fine young man that at his core cares deeply about his peers, is loyal beyond reproach and is respectful of those who have walked this path before him. Impossible to miss as the centre of attention on-field but loving nothing more to have the spotlight on others off-the-field. Moorf is a die on the hill, rusted on Blacker; Senior Co-Captain; Cordner Medalist; Club Treasurer; amazing player and most importantly, one of the best blokes you will ever have the pleasure of meeting.
And so, to bring our piece to a close, we will let Campbell's adoptive father Adam Pitt have the final words as we all wish him luck against St. Kevin's this weekend.
"Well done on a great 100 games Son. Love from your old man."
It certainly feels like that, Pitty. A son of the Blacks, a man of integrity and a friend to all who have been fortunate enough to meet him. Congratulations on your milestone Moorf. We are all very proud of you and lucky to have you as a legendary Blacker.
Q and A with Campbell
How did you end up at the Club?
My Dad played here in the late 80s/early 90s and was lucky enough to win a premiership at the Club. When I finished school, I had the choice of staying at Fitzroy where I played my junior footy or coming to the Blacks. Like many Blackers before me, once I'd had a chance to talk it through with the godfather, Ray Wilson, I was sold.
Any standout/strange memories from Under 19s?
My under 19s tenure consisted of three 100+ point floggings and one 5 point win against the Blues. Would take those results again in a heartbeat.
Favourite player to watch when growing up?
It's gotta be Richo. Although not many fond memories from growing up as a Tigers supporter in the 2000s.
Who has had the most influence on your career?
My parents put in a lot of hard yards for me early days. Dad was talking me through the art of defending from as soon as I could walk, while Mum has spent countless hours driving me wherever I needed to go and was always my biggest supporter.
Thriftiest/biggest tightarse at the Club?
Since the departure of Steven Flight, there hasn't been an obvious candidate for this. However, my pick would be Chalks - his dedication to wearing some of the worst jumpers I've ever seen just because they were cheap from an op shop is pretty remarkable.
Favourite subject at high school?
I was very maths/science at school. Pick of the bunch was probably Specialist Maths where I got to know my partner, Ruby.
Favourite teammate?
Although it was only for a couple of years, it's hard to go past Matty Dea. Just the selflessness and sacrifice he showed to allow me to play my game, when he would have been well within his rights to want to be the main guy, will always be appreciated.
Any interesting pre game routines?
I have a very specific ball bouncing routine to get me fired up to play.
If you could teleport anywhere in the world right now and holiday for a week, where would it be?
This week I'd love to be in Boston watching the Celtics put on a clinic in the NBA playoffs.
Last book you read?
Not much of a reader but last book I finished was Bill Simmons' The Book of Basketball. 
What is your ideal way to spend a Sunday off following a game, before heading back to the grind of a work week during the season?
Normally I like to get out in the sun in the morning before settling in for some footy into F1 in the arvo/evening.
Last but not least, favourite Blacks memory, on or off the field.
So many to choose from but favourite memory is probably our Qualifying final win last year and the hours following. Knowing that we were back in A grade after all the years of hard work, and having a chance to celebrate that having earned the week off, was pretty special.