Testing, testing, is this thing on? Hello hello Blacks Universe and welcome to season 2023, where the Blacks are proud to be back in William Buck Premier!
When the ball is bounced at the University Main Oval on April 15 to kickstart the season, over 2000 days will have passed since the Blacks last took to a field in A-Grade. Since that day in Round 18, 2017, the Blacks have shown a clear resolve to return to the top flight. It has been a big build-up in our fight to regain promotion, with all involved demonstrating their commitment through some heartbreaking losses, cruel twists of fate, and 2 Covid-impacted seasons. And now that it has arrived, the off-season at the University Blacks has been filled with palpable excitement ahead of what is to come in 2023!
In fantastic news, the Club is excited to announce the retention of the entire Football Department, led by Senior Coach, Dale Bower. After a hugely successful 2022, which saw both Seniors and Reserves make the Grand Final, the Committee were eager to re-appoint Bower, as his calm presence and commitment to the group has been tremendous for our players across his tenure so far. When asked about how the Club is shaping up to take on the challenge of Premier Football, Bower responded optimistically "we are going to look a little different to last year in terms of personnel and style of play." Impressed with the step up in quality and quantity during training, Bower noted that "players have really committed to the task of getting fit and preparing to compete. I am looking forward to seeing what we can achieve and it would be great to see a huge Blacks crowd for the Round 1 game vs Old Brighton."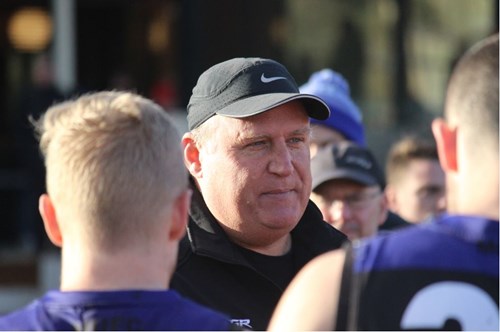 Once the Football Department Review for 2022 was finalised, the Committee moved quickly to re-secure Bower's Assistants from last season; we are similarly delighted to announce that Senior Assistant Coach, Shane Joyce, will return to lend his experience and wisdom to our endeavours in 2023. Leading the Football Department once more will be Cameron Wood. Cameron was terrific in his first season treading the line between Football Administrator and Football Coach. The role of Head of Football is a crucial one at the Blacks and Cameron was able to form great relationships early in his start, which served to increase the productivity of everyone else involved in the Football Department after his appointment. Cameron will continue to work directly with long time Football Operations Manager, Jeremy Hua, whose contributions to the Club are invaluable and is the backbone of many of our victories, so to speak, on the park.
Rob Paterson returns to take the helm of the Reserves, coming off the back of another successful season in charge. The Heart and Souls made their third consecutive Grand Final appearance (2018, 2019 and 2022) but were unable to take the last step. Notwithstanding this, Rob has worked very well in getting the best out of the most unique team at the Blacks, owing to the fact that weekly player changes comes with the nature of Reserves football.
Meanwhile in the Phoenix, progress has been outstanding so far with record numbers returning to the track in preseason. Robert Borg will be back for his 2nd year as Phoenix coach, and has done a fantastic job in rallying the troops for training and to play in 2023. The Phoenix certainly promises to have a rebound year, and we are excited about what is to come from this group of Blackers once matches start.
Lastly, the Under 19s are lucky to have Murray Schneider coming back to take on the challenge of leading the eclectic group for another season of Unders footy in 2023. Murray forged an unforgettable bond with the Under 19s group of last season, and with many of them returning for their second season of Unders footy due to eligibility allowances, it promises to be another rollercoaster adventure of ups and even bigger ups!
Our playing group has also been hard at work, returning to training twice a week in late 2022, in anticipation of a jump in quality for the return to A-Grade. Excitement certainly has been the pre-season theme, with some serious KMs burned through on the track, and a healthy mix of returning players with new recruits to provide a refreshed feel.
Pre-season so far was headlined by our annual camp last weekend down at Geelong, which was a fantastic day for all involved. Players undertook some circuit based fitness work, ran in teams along the foreshore with buckets of sand, and bonded together on another superb iteration of the 'Bus of Destiny' during the return leg. 
Former Blacker and current Committee member Simon Hogan also ran an important session for the group, touching on Blacker values and what individually and collectively makes us tick at Football. The group will look to continue to check in with "Hoges" at various points throughout the season, which will only serve to enhance the connection and understanding between our players. 
At the camp, the Blacks 2023 Leadership Group was also finalised, and we can't wait to bring you an update on this next week!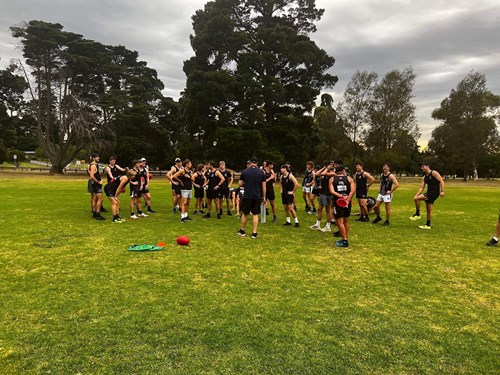 On the recruitment front, we're excited to announce the following players have committed to sign for the Blacks for 2023; Max Dow, Ben Stephenson, Finn Raymond, Tom Larby, Oscar McDonald (Williamstown), Sam Conway (Werribee), Patrick Fairlie (Northern Bullants), Lachie O'Hare and Darcy Crucitti to name but a few.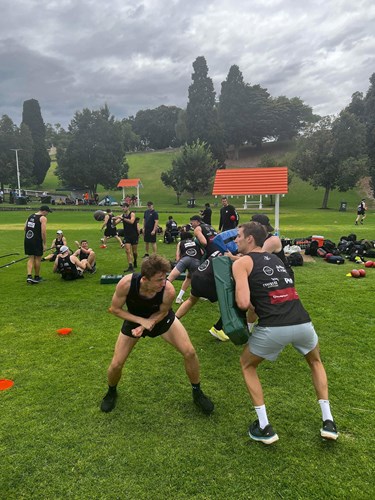 Naturally, being a University Club, change is inevitable across our playing list and in 2023, it will be no different. Although confirmed at Presentation Night last year, recently inducted MUFC Life-Member (among a plethora of other accomplishments) Bede Mahon will not be lacing them up for the Blacks this year. Whilst initially sad to acknowledge, all at the Blacks could not have asked Bede for any more than he did provide in his 180 games of service. With his contributions (both on and off the field), the Blacks are all the better for having him be part of our Club. Additionally, 2014 Premiership player and fan favourite, Harrie Lahy (116 games), has called time on his Blacks career, and is joined by Lachlan Huntington (122 games), Darren Mumford (26 games), Jesse Hare (27 games), Matthew Dea (18 games) and Harry King (109 games) in retirement. 
Finally, Seniors Co-Captain, Cordner Medalist and multiple BK medalist, Jordan 'Nigel' Quaile has also chosen to finish up his playing days, opting to leave Melbourne and embark on a year of travel and research in Europe together with his partner, Laura. 'Nigel' has been leader of some form at the Blacks since the day he arrived in the 2014 Unders crew, and has left his mark on many current and former Blackers that were lucky enough to see him play and know him as a friend. We wish Jordan and Laura all the best and safe travels, and will be sure to welcome them - (and any other former players of course!) - back at the Main anytime in the future!
Looking ahead to the home and away season, the 2023 fixture has been released and you can find it here (Phoenix and U19s schedules are yet to be published by the VAFA and will be communicated accordingly). Make sure to pencil a few dates already, headlined by our Round 2 clash against the University Blues (April 22nd) and our Grand Final rematch against Old Haileybury the following week (April 29th). As Round 1 vs Old Brighton is also at the Uni Main, that means there are 3 opportunities in a row to get down to the Main and throw your support behind the mighty Blacks, as we tackle the next big step as a Club: building our foundation back in A-Grade.
Indigenous Round is also slated to occur in our Round 7 clash vs Old Xaverians, in which the Blacks will be introducing an exciting new Indigenous jumper! MUFC Life-member, former Committee member and now 200-gamer(!) Scott 'Scooter' Myers is leading the way with organising this, and we are filled with anticipation in waiting to see what the Round will take shape as! 'Scooter' also played his final game for the Blacks in the 2022 Premier B Reserves GF, just missing out ending his long adventure on the playing field with a final flag to show for it. Congrats on the almost unmatchable Blacks career Scooter!
In the short term, Blacks will be playing 3 practice matches, commencing in the coming weeks.
See below for key details:
Saturday 18 March vs Old Xaverians at RMIT Bundoora. Phoenix @ 10am. Reserves @ 12pm. Seniors @ 2pm.

Sunday 26 March vs Fitzroy at Victoria Park. U/19s/Phoenix @ 1:15pm. Reserves @ 2:35pm. Seniors @ 4:25pm.

Saturday 1st April vs South Croydon at Cheong Park. Reserves @ 12pm.* Seniors @ 2pm*

times to be confirmed & there may be an U/19s game too.
It really is an exciting time to be involved with the Blacks right now, and we're looking forward to seeing as many old and new supporters back at the Main for Round 1. Go Blacks!