One of the most beloved Phoenix players of all time, Rohan 'Tank' Cleary will celebrate his 100th game this weekend. It is another milestone for the current Phoenix vice-captain, 2 time reigning Best and Fairest winner and former Rising Phoenix award recipient. It's been a long time coming and a milestone that the current crop of Phoenicians and past teammates have eagerly anticipated – perhaps more so than the great man himself.
Rohan made his Blacks debut in the Under 19s in 2011, as part of the much lauded 'superdraft' class that spawned a raft of other modern day Blacks legends. Rohan had family connections at the Blacks with uncles and cousins playing - which also given that most of his Newman College brethren were getting down to training in the pre-season of 2011 - it was a fait accompli that Rohan would himself become a Blacker.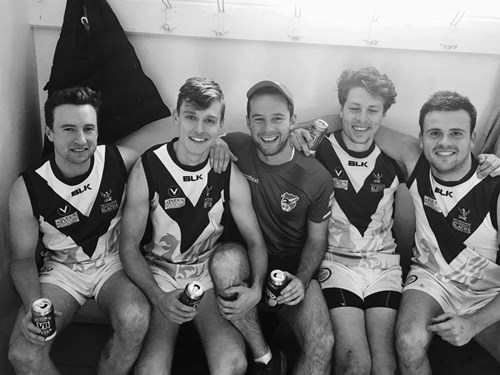 Left to right: Alex Hayward, Josh Bowden, Tank, Henry Robertson and Sam Douglas.
After a couple of years break, Rohan returned home to the Blacks for the 2014 season. Similar to his Unders experience, Rohan joined the Phoenix team when they were at the peak of their powers. It seems unfathomable that a player of Rohan's ilk was on the outer for selection for most of that year.
The following year he cemented himself as an integral part of the Phoenix before earning a promotion to the ressies where he was named in the best on several occasions. However, it was the 2016 season when Rohan emerged as a real cult hero. After dominating an early season encounter, Coach Jimmy Clarke in the after match was full of praise and quipped that no one could stop him, that he just bulldozed everyone who stood in his way. Tank-like. And from that point on he ceased to be known as Rohan and would be only referred to as Tank.
For years now teammates, coaches and supporters alike have marveled at the way Tank goes about his business.  As the moniker suggests he's a tough, uncompromising bull at a gate inside mid who also possesses a penetrating kick and a neat sidestep. Perfectly equipped to handle the dewy 9:20am starts.
Apart from the elite performances, the list of memorable Tank moments is plenty, but a few spring to mind:
In what is remembered as the 'Harry Ukich Game', it was actually Rohan who passed the ball to Harry which led to the match wining point after the siren.

Being able to team up with brother, Diarmid, for several matches in 2018.

Answering an SOS call up to play a game the morning he arrived back from travelling through South America (see photo)

After busting his collarbone against OMs earlier in the day, he left the hospital and went straight to the Clyde to board the Mystery Bus (see photo)

The not so inspirational half time motivational speeches dubbed 'Tank Tales'

Being the most sent off player in Phoenix history for "audible obscenities".

The constant on-field banter and letting an opposition player know he stuffed up and then whenever the tables were turned (not that it happened often) the instant recognition of "yep, I deserved that"/ "you got me" with a self-effacing smirk as he moved onto the next contest

Beating a tribunal charge when he successfully argued that he had pushed the opponent by the scruff of the jumper rather than the alleged strike to the head

The Joel Selwood-esque head bandages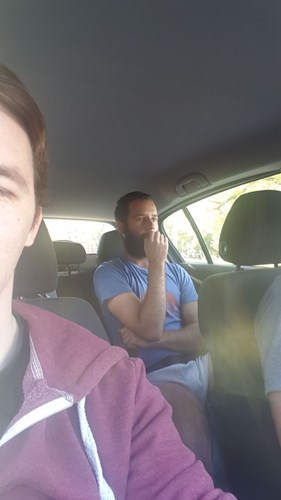 Tank fresh of a red eye from South America, not even afforded the opportunity to shave before being hustled into a car and straight into the mids.
These words, however, don't seem quite enough to adequately portray Tank's influence and popularity within the Phoenix group. I'm sure if anyone asks a teammate of his just what it is about Tank they enjoy so much, their face would light up and they would happily tell you all the reasons why.
As long time teammate and good friend Josh Bowden puts it, "Tank is the most rusted-on good bloke to come across the Phoenix. Unwavering in his commitment to team culture, and more often than not the best player on the field. He is the ideal leader through his actions and easily everyone's favourite senior citizen limping about the team. One of the main reasons I got up far too early each Saturday morning was to have a ball playing with Tank. Thanks for always keeping your place available as the perfect after party venue too – miss the good old days mate! Congrats on 100 Blacks games.
Congratulations on everything that you have achieved at your time at the Blacks and thankyou for years of quality service. We will leave you with some very creative poetry, conjured up by none other than a fellow former teammate of Tank - Sam Douglas - and a few Q and A questions with the great man himself.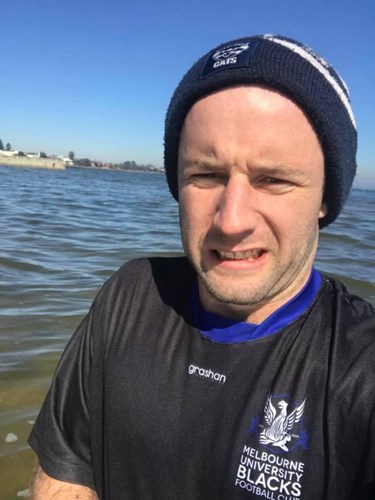 "Legend has it that the day (the sacred day) that the Immortal Bord was first birthed, arisen from the ashes of time itself…there was another"
Another forged in fire, come through combustion.
Another destined for damage, a masthead of men.
Another born Black, resurrected once more.
Tank Cleary – there is no other."           -         Sam Douglas
Who was your favourite AFL player to watch when growing up?
Home town hero from Casterton. Max Rooke.
Who has had the biggest impact on your football career?
Every coach I've had have shaped the player I've become today. Couldn't pin it down to a specific person. I've had some great coaches over my junior and senior footy career.
Who is the thriftiest/tightest player at the club?
There's no way Cal Farrell and McSteel buy their board shorts full price so it has to be those two.
What was your favourite subject at high school?
Accounting. Ties in perfectly with my personality.
Any pre-game football superstitions?
Two bananas and a Powerade of a morning, and pulling my socks up all the way to my knees (seem to be the only one doing that these days!)
If you could teleport anywhere in the world right now for a week, free of any covid related restrictions, where would you go?
Glastonbury. I think it starts in couple of days. The music just outweighs putting up with the mud, camping & poms.
What was the last book you read?
'Boy Swallows Universe' I think. I've been reading a book about staying focused which ironically I started over 4 months ago and haven't finished yet.
Favourite Blacks teammate/s?
I could name a heap. WIth the Phoenix having about 50 players a year, I have probably played with about 500 during these 100 games! Jack Heeley - fantastic player that helped create a great core of players for years after with the culture and respect he brought to the Thirds. Haysie - Alex not Will (sorry Will). One of the great Phoenix players of the past 10 years. Reliable backman who was a great guy to be around both on the field and off it. Josh Bowden - sensational captain and mate that lead the team through successful times. Cal Farrell - a passionate Uni Blacker that has put his hand up for anything over the past few years. I wouldn't have made it to 100 games if Cal hadn't been at the Club the past few years especially given Covid. 
Favourite off-field moment?
Can't go past the infamous Blacks mystery bus trips. They seem to have the ability to exceed expectations every year, finishing in some of the most entertaining or extremely depressing ways you could imagine.