What to say about a player who has been there and done it all, who's heart and soul has been stained Black, a man about to achieve a milestone rarely seen at the famous Uni Blacks – 200 games. (Editor's note: Less than 10 players in our storied history have made it this far, with the most recent being the living legend and former pest control extraordinaire - Andrew Jesse)
200 games as a player at any level is no mean feat, but given that before joining the Blacks, he'd already played 4 years of Premier League footy in Sydney at the footy factory that is The Pennant Hills Demons. This speaks volumes to his durability, dedication, preparation and commitment, all traits that carry over in the multitude of roles he's played off the field: Club Secretary, Committee Member, Social Committee, Punters Club Stalwart and frequent Black Spot whipping boy.
This is the man affectionately known as Ooi, Scoota, Goobert, Ooter, Shooter, Gooey, or this week, S200T.
It all began when Scoot moved to Melbourne in 2010 with good mate Charlie Richardson to pursue his dream career as a Firefighter. They moved into the worst terrace house on Drummond Street (the only bathroom, shared amongst four, was an outhouse, particularly challenging during the long Melbourne winters) but were quickly engrained into the fabric of the city - sipping latte's on Lygon & boutique beers in Brunswick - and into the culture of the club. Neither have looked back (or haven't been welcomed back, this is undetermined at the time of writing)
Scoot, living out of home for the first time, made ends meet by religiously declaring the minimum allowable work hours with Centrelink each fortnight. This enabled him to live a charmed, but thrifty life, cooking Hungarian sausages on the stove top for breakfast lunch and dinner, watching daytime TV, in front of his laptop (counting his stats from the weekend's game footage), in front of his phone (punting on nags). All the while amassing huge credit card debt and collecting an impressive tally of parking tickets on his Limited Edition 1990 Subaru Liberty. The house also became synonymous with Uni Blacks kick-ons, and a place where Justin Gray, The Black's much-loved former President, could truly let his hair down...
Scoot's debut season was a fairy tale, kicking a lazy 5 goals in his first game vs Haileybury on April 10th, 2010, he would go on to play 10 games in the seniors, kick 37 goals and win a premiership with the Reserves in Premier B. Not bad, eh? But more importantly, the arrival of Scoot with other key players that year began a revolution for the Blacks. The club truly turned a corner, the group was galvanised and a culture of on field success ensued – traits still obvious today and attributable to that time.
Scoot rode a wave of success from then on, including another Premier B Reserves Premiership in 2012 - as a part of the Double-Win for the Double-Ages, in a year he was named 11 times in the bests, and kicked a goal on Grand Final Day (which we'll call the Match winner considering the team won by 2 points). Then there was a Premier Reserve Premiership in 2014 – an instant classic, come-from-behind, against-all-odds win over Old Xavs in the Miracle on Grass, as well as finals campaigns in Premier B in 2018 & 2019. And 2022, well that's TBD…
Individually, Scoot has been a captain and involved in the leadership group over a long period. He has also probably won some awards and led the goal kicking at certain times too. (Editor's note: with individual awards being handed out on Silly Sunday, the brains trust were unable to recollect specifics – I'm sure Scoot will rectify this.)
Friend and fellow Sydney refugee probably said it all best:
When I think about my time at the Uni Blacks and what made it so special, Scooter immediately comes to mind. We arrived together in 2010, and it's nothing short of remarkable what he's delivered over his 13 years (and counting) of service.
Across his 199 games in Black, he's always believed he's had a rough go from the umpires. However, this never stopped him kicking bags of goals and using his lightning pace to dart around packs and scoop up the loose ball, usually finding a team mate with his lethal right boot. He's been a dedicated trainer over the years, and no doubt this has put him in good stead to carry on for so long. Scoot has slowed ever so slightly in his twilight, and the development of some old man girth now provides some added weaponry as he lines up against a younger generation.  
Off the field, it's no secret what Scoot has contributed to the club. Life membership whilst still playing is testament to the unknown hours he has put in to make the Black's tick, and no one is more deserving of that honour.  Always there when you need him, Scoot is a loyal friend and family man to the core. It's just amazing he's been able to fit it all in. 
Congratulations this weekend mate, 200 games is the ultimate milestone at the Blacks, and I look forward to being there on Saturday to celebrate. Chuck 
As with all high-performing athletes, the drive for success can come at a cost. Scoot's determination, combined with his "Hot-Blooded Hungarian" heritage,  led to a number of infamous sprays over the year, as mentioned by Charlie above. Besides this writer, apologies should also be extended to: the VAFA, MU Sports, Club Physio Branson, every team mate, runner and water boy, and last but not least, the officials in lime (particular apologies must go to VAFA umpiring legend, Ivan). Scoot is generally unforgiving of mistakes, miscalculations, misinterpretations, mismanagement and miskicks. He is a passionate Blacksm'n.
Many worked hard at channelling this passion into positive pursuits, including one of his earliest coaches, Lukey O, who said:
One of the things you find out about footy clubs when you move into coaching is how many jobs need to get done to get the team on the field each week. And how few people actually get their hands dirty and do those jobs. Scoot was one of those people from day one. 
While he was the public face of the social committee for ever, the one role most people wouldn't know he held was as the club's chief tribunal defence attorney. The Dennis Denuto of the Blacks.
Quite a few mornings were taken up with a fired-up Scott sounding off on the injustices of the VAFA and plotting a way to get one Blacker or another off a trumped-up charge at the tribunal. This often included breaking down grainy video footage like it was the Zapruder film trying to talk himself (and me) into Ninja Batten's (Editor's note: and Bart Mill's) innocence. Scoot would refuse to accept the club advocate's standard advice of 'take the prescribed'. We had a solid record taking on the unwinnable cases, although we couldn't help Charlie Richardson at Old Scotch unfortunately (Editor's note: and no one could #savesimmo). 
I'm sure the 200 club at the Blacks can probably be counted on one hand so the magnitude of Scoot's achievement as a player is enormous. But even that is a tiny part of his contribution to the club.
What he has done off field over a long period of time is unmatched and stamps him as a legendary Blacker.
Congratulations, Scoot. Enjoy the day, you've earned it.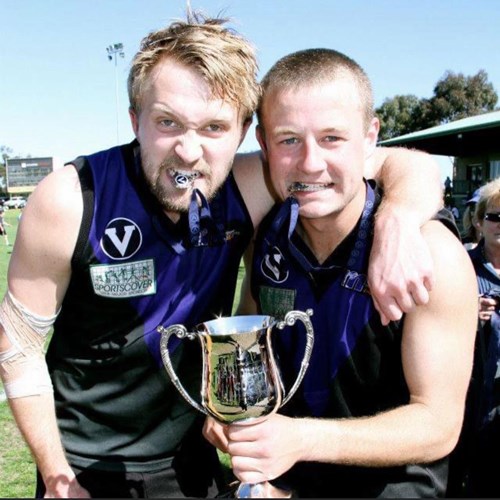 If we were to wrap this up here, you'd already be in awe of what he has been able to achieve, but in the famous words of Tim Shaw "But wait, there's more". Heaps more. So much more that your author has reverted to dot points to prevent further RSI damage.
The list of achievements in his administrative roles is quite honestly, astonishing. In 2012 he began as Assistant Club Secretary to LVK (who shared the summary below) before taking over as Secretary in 2012. Every player to don the guernsey since then, has Scoot to thank for his contributions to the following:
2013 relocation: During the Pavvy redevelopment Scoot worked tirelessly to coordinate the logistics of club property into our temporary home for the year – and then of course, back again. (Editor's note: he also had some memorable run-ins with Branson 'the hoarder' during this time and ongoing).
Club Logo: Fed up with MU Sport and their logo, Scooter convinced one of his Firey mates to design the new logo for us pro-bon, and likely this logo will be with the club for decades to come.
Club Apparel: Provision and management of clothing and uniforms, demonstrating trademark thrifty-ness and the occasional spray for suppliers.
Subs payments: Unrelenting pursuit of subs-dodgers to ensure economic prosperity of the club.
The first Pride Round: Scooter was instrumental in advocating for and organising this. The Blacks were the first club outside of the AFL to have made such a statement. (Editor's note: Gillon McLaughlin subsequently saw this great work and stole the idea for the 50m rainbow arc)
Celebrating Indigenous culture: he worked tirelessly to get the first of many Indigenous themed guernsey's designed.
Keeping the peace: At times (who knows why?!?), our relationship with the Clyde could be on tenterhooks and Scoot would drag himself down to the Clyde on a Sunday or Monday to repair the damage with our favourite publican, Spud.
Collective Bargaining Agreement: A unionist at heart, Scoot always went into bat for the boys to negotiate cheaper Parma's and bowls of Spag Bol on Thursday nights at the Black Spot/team selection.
(Editor's note: Of course, there are others who contributed in various ways to these initiatives, but this about Scoot, so back off!)
It's clearly no surprise why, in 2017, Scoot was awarded Life Membership at the Melbourne University Football Club (Blacks, Blues, Women's), which is awarded to those, who in all capacities, demonstrate true excellence as a player, official or supporter to their club, in a voluntary way, over a minimum period of 8 years. One of the only recipients to still be serving as a player and will forever allow him to reminisce with the Comma boys over a Melbourne Tin, or seven.
Scoot's achievements at the club  also occurred while excelling professionally. Since qualifying to join the MFB he has earned a degree in Exercise Science, has become a "Leading Firefighter" and a "High Angle Specialist", working grueling night shifts and acting as a first responder to some truly shocking incidents.
And of course, in his spare time, he's created a wonderful family with his amazing wife, Rosie. They met through mutual friends that were involved with the Blacks. Never has Scoot's doggedness and determination been more expertly executed. Applying his craft as small forward, he was able to wear her down with frontal pressure and the odd party trick. Scoot cleverly disguised their first date, which ironically was at a Blacks presentation night that Rosie thought she was attending as a friend only, else she may not have gone.  Scoot finished the night with Life Membership and and an eventual Life Partner, well played. We all thank Rosie, Emilia and Max for supporting Scoot and allowing him to pursue what he loves and in turn enrich the experiences of all of those who have come through the club over the last 13 years.
The club is very lucky to have had a man with such a very big Black heart. Congratulations Scoot, all the best this weekend, you're a Uni Blacks legend and we love you!