From Bede Mahon with Cameron Roberts
If height were to be in a linear relationship with success, then Josh Steadman is a prime example. Standing at a towering 200cm tall, Steaders – as he is affectionately known (alongside many other nicknames, but more on this later) – is an exemplar for what it is to be a Uni Blacker. As he stands on the cusp of his 150th appearance in the famous jumper, it is timely to look back on his growth and impact as a player, but more importantly as a leader and friend.
Steaders landed at the Blacks as part of the self-proclaimed 'Super Draft' litter of 2011. He arrived in the company of names synonymous with on field success and off field debauchery: Lahy, Slabbert, Turner, Slugson, Thomas, Dadswell, Douglas, Gardiner and Sharp to name but a few. Prior to this, he cut his teeth on the lush but rough and tumble expanses of Albury. As a few pictorial representations show, his style had a lot of room for improvement.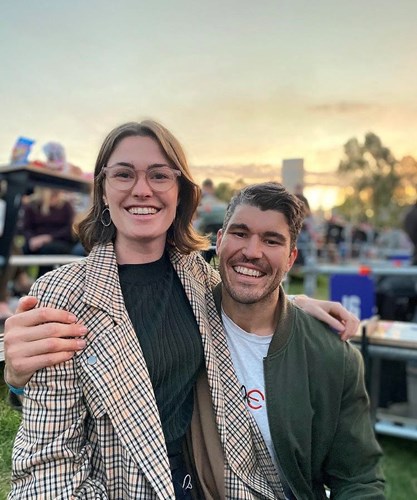 A younger, stylish Steaders, and now Josh with his beautiful partner, Alana.
An Under 19s graduate of the Blacks academy was followed up with a Reserves Premiership in 2012. Steaders whet his whistle with senior action throughout his early years at the Club and in some respects, he was a blank canvas with an unrivalled inner drive. And boy, hasn't he come along in leaps and bounds in the proceeding years.
Speaking of leaps and bounds, former coach, Cam Roberts, reflects on his memories:
One of my early memories of a young Josh Steadman is when I was reappointed as senior coach after year off and Josh was the first player to ring to offer his congratulations and welcome me back to the club. After some general chat our conversation soon turned towards the upcoming season.  Josh was keen to talk through how he could best maximize his talent and win a regular birth in the senior side. We spoke for a while as we discussed the possible make-up of the side that year, potential recruits and the role of our Ruck. I asked Josh what sort of ruckman he saw himself being, he pondered for a while and replied;
"……..like a Paddy Ryder…."
"Oh ok, interesting……..Like Paddy Ryder you think?" I responded.
"Yeah…..I think I'm most like him……you think differently?" He asked.
"I wouldn't have run with Paddy Ryder personally…"
"Then who?" Josh questioned.
"I would say….more like Shane Mumford"
I'm not sure Josh was impressed with my comparison, perhaps he was even slightly insulted, I mean you couldn't get two ruckmen at opposite ends of the spectrum from an athletic profile, but I think those who have had the opportunity to play with, against or seen Josh play could not dispute that at his best, he is a bullocking and tireless ruckman always involved the contest.
In the early stages of that 2016 season, we started the year 1-3 heading into Rd 5 against Old Xavs at the Uni Main. A must win game to give any chance to playing finals and equally important to provide some reprieve from relegation. We were coming off a close loss to St Kevin's and needed to address our work around stoppages. Old Xavs at the time had a dominate ruckman by the name of John Shaw. Shaw was a multiple VAFA rep and Old Xavs premiership player. He was tall, athletic, and spring heeled……he played a bit like… Paddy Ryder!!
Our young Shane Mumford had a big challenge on his hands. After some lengthy deliberation with my assistant coach Scott Leal, we devised a plan to hit to the same areas that Shaw liked to hit at Ball Ups and Throw Ins. We figured the percentages of winning clearances were substantially better for us if we knew exactly where the ball was going to go. We trained it as the last drill on Thursday night so Josh and our mids were all on the same page. After a few practice run throughs, we finished the session and unbeknownst to me, Josh had walked off the track, down to the rooms, grabbed his bag and went home…. Not in a good mood.
The following day the then captain, Bede Mahon, rang me to tell me that Josh was not happy with our plan because he felt we were accepting defeat by hitting the ball the same way as Shaw. After some consoling on the phone, I managed to convince Josh it was a good plan and we agreed to change it if it wasn't working.
When the game started, I was feeling confident we were in good shape to take it up to Old Xavs. 15 minutes into the first quarter we were 5 goals to nil down. We were getting smashed in clearances. Our season was sinking and sinking fast! The positive? Josh was dominating hit outs – at least part of our plan was working. By the end of the first quarter, we had managed to get ourselves back in the game. By half time it was a goal the difference to Old Xavs. By the end of the game and 10 goals in the second half we had rolled Old Xavs by 6 goals. This victory became a defining moment for us as a team in that season. We would go on to win the next 5 games in a row and eventually make finals. But beyond just the victory, it was the maturation from a young Josh Steadman into the wonderful player we see still today. That game against Old Xavs gave Josh the evidence he was looking for that he was good enough to be not just good ruckman at the top tier of amateur football, but a dominate one. And hasn't he been just that, on top of turning himself into an inspiring leader.
We have witnessed Josh go on and captain the Club and the VAFA as is the respect he has developed competition wide. His standing comes as no surprise and 150 games is an unbelievable recognition for his dedication to his craft and beloved Club.
I feel honored to have had the opportunity to play with and coach Josh but feel even more privileged to get to know him a person and be able to call him a close friend. Well done, Juice, it has been wonderful to see you grow as player and person over the journey of 150 games. Congratulations my friend.
In his 4th season as co-captain alongside Jordan Quaile, our lovable ruckman is the premier big man in the VAFA (no bias), a mainstay in weekly listed best players, state representative and perennial vote getter. Off field, he is a dependable ally in the trenches of a footy trip or a mere home and away Clyde-night setup.
Many past and present teammates have been echoing their congratulations in the lead up to this weekend. Simon Thomas spoke glowingly, saying that "one of Juice's most honourable traits is his dedication and work ethic towards everything he commits to both on and off the field." Simon went on to say "you know if he says he is going to do something, he will give it 110% and that's a testament to the position he is in today. A lifelong friend, that I have had many great memories with."
Sam Douglas, fellow member of the 2011 crop, was philosophical when speaking of Steaders by saying "you can measure height, but heart is a little more difficult. While the growth and development of the footballer is similarly measurable, it is that of the man which has led to success on all fronts."
Josh, Steaders, Juice, Jerry, Jerr, Giraffe, Skipper. Quite often what Steaders is referenced to is varied. However, what is an absolute constant is his hard work, dedication and loyalty. This is demonstrated in his roles as a player and captain but also off the field as a son, brother, partner and mate.
Everyone within the University Blacks community congratulates Steaders on this wonderful achievement. Last but not least, we put a few questions to Josh ahead of his big day. 
Who has had the most influence on your career?
Bloody tough question. In the early days post Unders on field it was Matt Kempton and Bede Mahon, in the early days off-field it was the likes of Chuck, Flighty, Napes and Pitty. Coming into the Senior Group after a year with the Unders, we as a Group (collectively known as the Super Draft) were very impressionable and were lucky to be taken in by some older, steady hands who we became and remain great mates with. Cam Roberts time as Senior Coach between 2014 – 2019 was also a massive influence, Bobby told you how it was and that worked well for me. 
Thriftiest/biggest tightarse at the Club?
Not tight, but financially aware, Cam Turner.
Favourite subject at high school?
Modern History.
Favourite teammate?
Impossible to choose. There is a photo following a Carey win with Bede, Chuck and Flighty – a picture tells a thousand words.
Before we lost him to the bush, I loved playing with Brenty (Sheahan) and especially appreciated his efforts to bully the opposing ruckman, physically and verbally. 
Any interesting pre game routines?
Not really. Some people find it odd that I drink a cold long black at half-time. 
If you could teleport anywhere in the world right now and holiday for a week covid free, where would it be?
Europe, with a bunch of the Super Draft, for Juddy's Bucks – coming in July.
Last book you read?
Monkey Business. A bit of an Ode to Harrie Lahy and the early steps of his new career.
Last but not least, favourite blacks memory, on or off the field.
2012 Mad Monday night in the Den following the Double Premiership and ticket back into A-Grade. If you know, you know. 
Good luck Steaders! We are all very proud of you.