This weekend a champion footballer and even better person will play his 100th game for the University Blacks. A fan favourite and a much-loved teammate, Hugh Curnow continues to light up the Uni Main Oval in 2022, with his breakaway speed, spearing left boot and a sheer desire to come out on top at the final siren with his teammates. 
Hugh came to the Blacks in 2014 after a distinguished junior career in the inner north with the Fitzroy juniors, Northern Knights and Vic Metro. He initially split his time between the Northern Blues in the VFL and the Blacks in 2014 before becoming a full-time Blacker in 2015. School captain at Trinity Grammar in 2013, Hugh branched out from his natural comforts of the old boys' club and joined the Blacks, a decision the Blacks faithful are incredibly grateful for and one that no doubt Hugh has never looked back on.
2016 and 2017 were outstanding years for Hugh personally, taking home back-to-back Cordner Medals as the Best and Fairest player at the Blacks. His consistent performances through this time made him one of the premier midfielders in the strong A-grade competition. When he iN at full flight, he is unstoppable; and it is a pleasure to watch, let alone play alongside. Hugh's 100th is also momentous for the fact that he has only ever played a game for the Blacks in the Seniors; Hugh's 100th Club game marks a century of Senior games, which surely places him in his own elite category of Blacker.
One game that stands out in my mind regarding Curns, was the 2016 elimination final, where an inspired performance from Hugh nearly single-handedly carried the team over the line against eventual premiers that season, Old Xavs. In terms of individual moments, I can close my eyes and picture him darting out of a stoppage and kicking a left foot snap goal at the Main – a scene that has played out so many times over the years.
"The Colonel" though has a classic case of white-line fever which is a stark contrast to his relaxed and softly spoken nature. Football is a competitive outlet for him, and you'll often hear Curns yelling and celebrating any 'Black Acts' performed by his teammates. I recall vividly, a few years ago in a close game at Haileybury, Curns was getting tagged by a mouthy player wearing the No.1 jumper. Hugh kicked the winning goal from a centre clearance in the dying minutes and can be clearly heard in the VAFA TV footage running back to the centre of the ground and yelling "WHERE ARE YOU NUMBER ONE? WHERE ARE YA?!"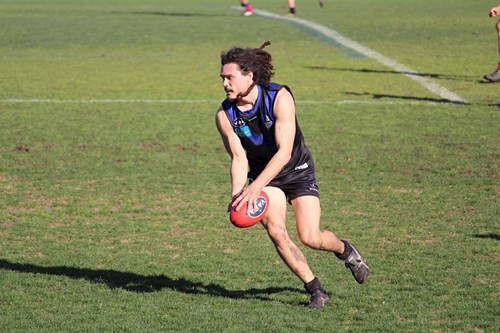 Outside of football Hugh is a very talented individual with many outlets giving him a balanced lifestyle. He recently graduated from his medicine degree and is now working at the hospital in Frankston, whilst living at the family beach house in Blairgowrie. An avid surfer, this enables Hugh to get a great balance between his various passions. During lockdown last year, he created an album of his own music, is a talented pianist, and has managed to fit in plenty of travel, volunteering and hiking into his spare time.
There is much more to Hugh Curnow than the elite footballer - he is a kind-hearted and respectful person who cares deeply about his mates. When we run out alongside him, we know that he is 'all in' and will give his absolute best for the Blacks.
We all love him and wish Curns all the best for his 100th game for the Club.
- Jordan Quaile, 2022 University Blacks Seniors Co-Captain and teammate of Hugh since 2015