The University Blacks are delighted to announce that current Senior Coach, Dale Bower, has been reappointed for the 2021 season. Dale and the broader Football Department have exceptionally handled what has been a very challenging period in what is a year like no other. Dale's established relationships and tremendous rapport with the playing group has made the decision a no-brainer for the Committee to fully endorse, and we look forward with a genuine sense of optimism as to what 2021 will bring us on the field.
President Nick Carah has outlined how after two painful Preliminary Final defeats in 2018 & 2019, that we now 'feel like we've got the team of players and the set-up off field to compete really strongly for the right to get up there' to A-Grade. Although the top flight poses weekly formidable challenges in Premier, the club has a 'clear goal' to take on the elite in future seasons.
'You need to go up to A-Grade really strongly. Even the fact we lost in those two games in '18 and '19 probably suggested we weren't quite ready because what tends to happen is the best team goes up and prospers – whilst unless the runner-up is similarly strong, they often come straight back down to B-Grade. As such, this suggested we probably had some gaps to left to fill.'
Bower brings a wealth of football experience to the Blacks, with an elite resume of coaching roles at Old Scotch, Scoresby, East Ringwood, Williamstown and Box Hill.
In addition to Bower committing for 2021, the Club has so far managed to retain their prospective 2020 playing group for the following year. In what Carah described as our 'best recruitment period for five seasons', the Club is confident in bringing to the field a super competitive package of on field performers and off-field support structures.
Headlined by the re-committal of Matthew Dea - who spent 10 years in the AFL system and has committed to an assistant coaching role - the Blacks playing group for 2021 consists of a mix of experienced household names that our members know and love, and exciting new recruits that have been yet to officially debut for the club.
Co-Captain's Josh Steadman and Jordan Quaile have provided strong leadership to the playing group during the uncertain times of April-July this year, reinforced by the next wave of Club-veterans; two-time Cordner winner Hugh Curnow, Joel Ernest is back after a stint of VFL football with Richmond, and vice-captain Campbell Moorfield had trained with Essendon in the early part of pre-season.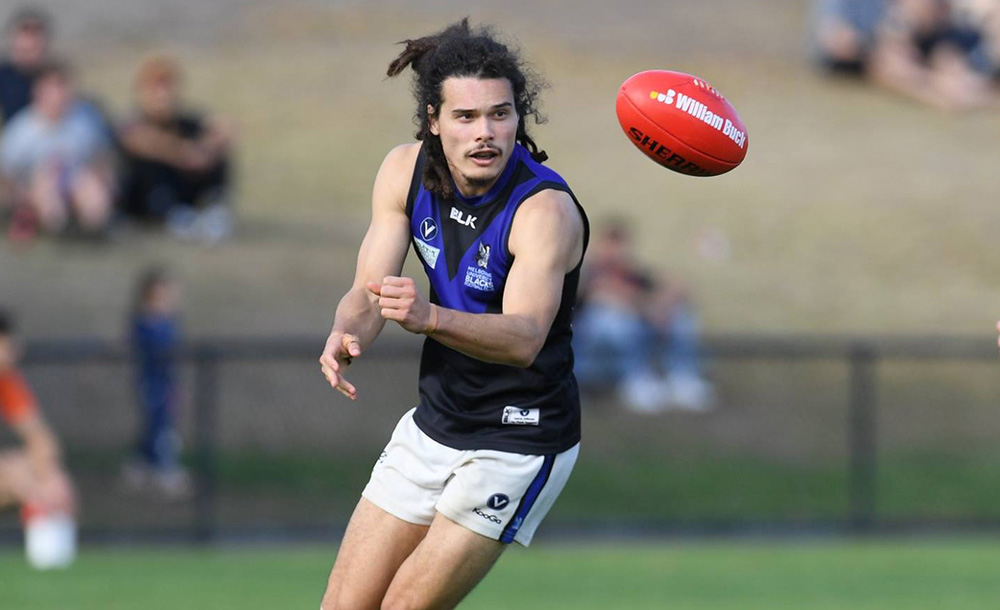 Above: Hugh Curnow is many Blacker's fan-favourite on game-day.
New recruits that promise to excite in 2021 include former North Melbourne VFL player Mitch Rodd, who produced an excellent pre-season throughout early 2020; Port Melbourne's Lachlan Waddell was set to add valuable height in the forward line; and hard-running midfielder James Sansom had crossed over to the Uni Main from Old Scotch prior to the beginning of 2020.
Above: Mitch Rodd in his North Ballarat VFL days.
Carah said that 'as a university club, we always say we draw from a broad church – you find a way to work with different personalities and find the right blend of players to make a united strong force, and we believe we have that moving forward.'
Furthermore, hot-off-the-press at the Blacks HQ is the fantastic news for our younger players, that Shane Sexton has re-committed to lead the Under 19s in 2021 as coach. As is the theme for 2020, our Unders were set for a strong season with Shane's guidance, with his football experience built upon educating young players through the Western Jets TAC Cup Program amongst broader AFL Victoria roles.
With COVID shutting down the University and Residential Colleges, the Unders had to put the cue in the rack early on and bide their time for football to return. Now with Shane's commitment for 2021, alongside long-time Blacks stalwart Justin Gray's tireless contributions, the Unders will look to launch from the talented and enthusiastic squad they'd put together before the cancellations of this season.
Consequently, the VAFA have adjusted eligibility rules for 2021 which will allow more 'over-age' players to still get an opportunity to experience a year of Under 19 VAFA football with their peers.