They say Swan Hill his the 'heart of the Murray'. Fittingly, a player from the famous Mallee town has become the heart of the University Blacks Football Club. Bede Mahon led the club to its first Premier A Division flag in 40 years and has collected numerous awards and accolades along the way. This week we pay tribute to him as he reaches game 150 in what has been a breathtaking career to date.
A product of Tyntynder Football Club, the responsibility of Bede's recruitment, via Andrew Donald, was given to the safe hands of Adrian 'Odi' Goonan and Ed Ryan.
"I played in two premierships for Uni Blacks but arguably my greatest contribution to Blacks success was sitting down for a parma with a baby-faced kid and his best mate from Tyntynder in the Victorian Mallee," Odi proudly admits.
"Ed and I met Bede and Bo at the Clyde in early 2008. Some might argue that parma was the most important in modern Blacks history!"
Odi says that there were a few quality characteristics that Bede possessed that stood out that night.
"He was a loyal mate, a great communicator, a high-class individual and a natural leader," he said.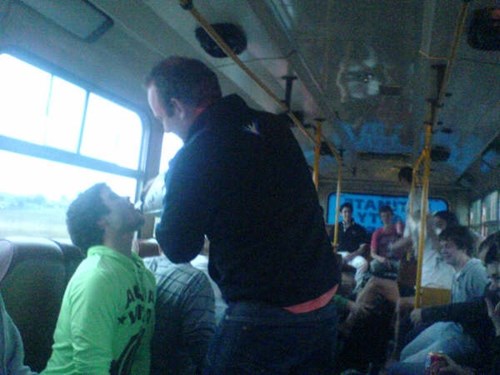 Above: Odi keeps Bede hydrated on the Bus of Destiny (2008)
On these such qualities, Bede was appointed captain of the Under 19's in 2008 and won the best and fairest, displaying courage, toughness and an insatiable appetite to win the footy that had senior coaches and supporters of the club licking their lips.
Following his underage year with the Blacks, Bede went to play alongside his brother's Benny and Pat at Ultima Football Club, before heading home to his beloved Tyntynder Bulldogs.
Returning to the Blacks in 2012 and under the eye of new coach Matt Kempton, Bede was instrumental in the club's promotion to A Grade, playing a starring midfield role in the B grade premiership. The day following the grand final, Bede won the first of his two Cordner Medals. Overcome with joy, Bede was, for the first time, caught quite short of words in delivering his acceptance speech. It mattered not, in that moment and the forthcoming days, he inspired more with action rather than words.
Like his attack on the ball, Bede approached celebrations with similar rigour and valour. The crisp blue ANZ suit he wore to The Clyde on Sunday morning until the following Wednesday now holds pride of place in the ANZ Banking Museum at 380 Collins Street (if this is not the true final resting place of the suit, then it's certainly where it should be).
That same year, Bede was selected to represent the VAFA Under 23 team when they took on WA. He's been a mainstay in the leagues representative side ever since, lining up in Victorian Metro championships, battles with the Vic Country and representing the VAFA on a tour of Ireland.
Season 2013 saw Bede appointed captain in the Black's first foray into Premier Division since a brief stint in 2008.
Head coach at the time Matt Kempton said, "Like all great captains, Bede wasn't so much appointed. He embodied all the Blacks attributes that despite anything to the contrary, seem to pass from one era to the next; humility, respect, sense of humour and a relentless desire to have a crack for the team."
In describing the relationship between coach and captain, Kempton explains, "It was strange to have reflected that at the end of 2013, I'd honestly said so little to him. I felt so little was needed."
2013 also saw Bede awarded the Brendan Keilar Medal for the first time alongside close mate Tom Napier. He's since won the esteemed medal a further three times - 2014, 2016 and 2017. The award, voted on by the players after every game, exemplifies the traits that typified Keilar: skill, tenacity, flair, courage and passion. It's hard to think of a better way to describe how Bede plays his football.
After bowing out finals in the 2013 preliminary final, Bede captained the club to the most memorable 2014, culminating in the 2014 Premier Division flag where he was adjudged best on ground, winning the Jock Nielson Medal. The following day, Bede won his second Cordner Medal and on presentation night, won the Keilar Medal again.
Without doubt, it's one of the most stunning individual years by any player in the club's history.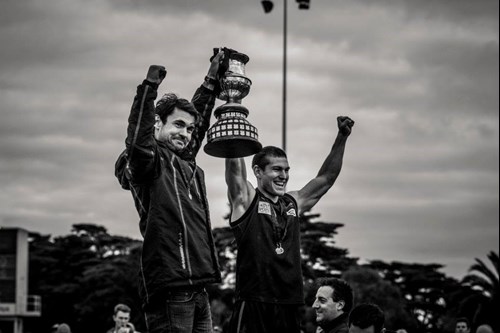 Above: Cam Roberts and Bede Mahon celebrate the Blacks' 2014 A grade premiership.
Achievements aside, there's a lot more to Bede than just footy. A man with nicknames including, but not limited to: Bedey, Weapon, Worthy, The Worthy, Badesworthy and Dr. Badesworthy might have a few stories to tell, and boy, does he have some stories to tell, although he prefers to call them 'chronicles'. Sidle up alongside Bede and he'll happily peel back a few chronicles, captivating all those around him. Any attempt to interrupt will be met with 'no response from The Worthy', much to the crowd's delight.
It's not just his football that has gradually improved over the years. First arriving at the club as a Ben Cousin's lookalike (think 2006 Cuzzy), Bede's appearance has somewhat evolved with time. He reached peak 'Cuzzy' in 2012 before lobbing off the hair and running a more streamlined buzz cut throughout the premiership years (2012-2014). This has since transformed into what is widely considered a 'rude boi', whereby the top has some length, the ears are lowered and the sides dropped way back, fading right away to dust (zero). Working from a low base, we're happy with his progression and where he's currently at.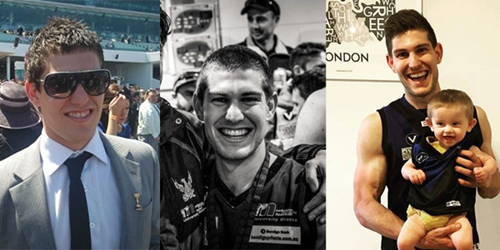 Above: The evolution of Mahon - 2008, 2014 and 2019 with his daughter Lola.
The club hasn't just been fortunate with Bede's services as a player but have been lucky enough to benefit from the Mahon family's presence over a number of years. His parents, Bernadette and Chris, sponsor the club and regularly make the four-hour drive from Swan Hill to support Bede and the Blacks. Bernadette and her sisters have made huge contributions to countless afternoon teas and after playing a handful of games, Bede's eldest brother Pat is now an assistant coach and runner for the Reserves.
Married in 2018, Bede's wife Georgie is a mainstay at Blacks games, now bringing along their gorgeous daughter Lola who is lucky enough to watch her Dad play.
But, back to the footy. Following premiership success in 2014, Bede's 2015 season was interrupted by injury as a result of a broken wrist suffered against Old Xaverians. In 2016, Bede was back to his best, again winning the Keilar Medal and was named captain of the VAFA's Premier Division team of the year.
He repeated this feat in 2017 winning his fourth Keilar and taking his game to another level which saw him crowned the Premier Division's best and fairest player and subsequently awarded the Woodrow Medal. Bede is only the fourth University Blacks player to win this award in the club's 160-year history and the first to do so since 1952. His win was all the more stunning due to his barnstorming finish to the season, polling nine votes in the final four rounds to leave some ex-AFL footballers in his dust.
Across his 149 games to date, Bede has been named in the best players an astonishing 91 times. This has translated into the achievements described above and summarised below:
Club Captain (2013 - 2018)
Premiership Player - 2012 (B Grade), 2014 (A Grade)
Jock Neilson Medallist (A Grade Grand Final BOG) - 2014
Cordner Medal (Club Best & Fairest) - 2012, 2014
Woodrow Medal (VAFA Premier Division Best & Fairest) - 2017
Brendan Keilar Medal - 2013, 2014, 2016, 2017
Under 19 Captain - 2008
Under 19 Best & Fairest - 2008
VAFA Representative Team - 2012 (U23), 2013 (Vice Captain), 2014, 2015
VAFA Team of the Year - 2016 (Captain), 2017
Looking at Bede's career thus far, it's hard not to get lost in the long list of accolades, accomplishments and achievements. But to do so would be to gloss over so much of what makes Bede the person universally loved and widely admired.
Opponents fear him but have the utmost respect for him. His teammates are inspired by him and walk taller when he is by their side. Coaches are in awe of him.
Teammate Lachlan Huntington says of Bede, "Bede's 150 games for the Blacks are a testament to the tenacity, passion, care and loyalty that Bede shows across all facets of his life. With an on-field trophy cabinet bigger than most, it is Bede's off-field repertoire that is most impressive. A brilliant student, a committed and loving father and husband and staunch friend. The opportunity to share in at least some of these games with him, is something that brings me, and all others who've had the opportunity, immense pride and a genuine drive to bring the best out of myself, as he does in all aspects of his existence."
For supporters of the Blacks, he's been a player to treasure.
"One of the most satisfying parts of following Blacks over the past decade has been watching Bede blossom, dominate and lead this great club. The Blacks have seen some great people pass through the club over the years, but not many better than Bede Mahon," Odi Goonan says.
Not too many players make it to 150 games. But with Bede, it was never in doubt. Congratulations Bede and good luck to you and the boys on Saturday. See you there!