Josh Steadman and Louis Vescio have both been included in the final 22-man squad which will fly to Perth tomorrow to take on Perth FL on Saturday.
Both players have had outstanding seasons to date, which saw them included in the final side, with Steadman named captain earlier this week.
Speaking to the VAFA Podcast, Steadman said the last few weeks with the Big V squad had been enjoyable.
"It's been a great few weeks getting to know the guys and coaching staff. We're really looking forward to flying out on Friday," he said.
"It (the captaincy) was all a bit out of the blue to be honest. When it was first floated, I was a little bit sheepish about the idea… but I'm absolutely privileged to be captain of a great bunch of guys."
The ruckman said he may need to call on one of his long-time teammates and former Blacks captain Bede Mahon for advice on a pre-match address.
"I did my apprenticeship under Bede and he's one of the great pre-game narrators, so I might have to tap into his wisdom."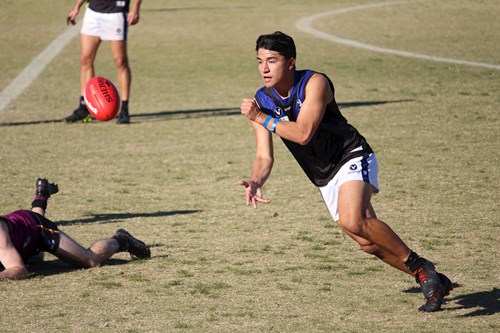 Above: Louis Vescio is one of two Blackers selected in the Prem B - Div 4 Big V side.
The Blacks' Senior side sits a game clear in third spot on the Premier B ladder, behind Caulfield Grammarians and Old Scotch who have lost just one game between them after 11 rounds.
Steadman said the Blacks are optimistic that they can overcome the top two sides should they meet in the post-season.
"We were very luck to get through Caulfield in the elimination final last year coming from about 20 points down at three-quarter time, so we knew they were going to be a really good side (in 2019)," he said.
"Obviously Scotch similarly, a really proud club coming back (from Premier Grade) so we knew they'd fire up.
"We've been going okay, lost a couple of games which we'd prefer to have won, but we're still quite bullish on our chances.
"I guess for us at the moment it's just getting our game style right and pushing to the pointy end of the season."
The Blacks have had their fair share of injuries to this point, but the skipper certainly wasn't using that as an excuse for a 2-3 record since Round 7.
"We've had a few injuries, but every club goes through that so we're not blaming that at all. It'll be a good chance for us to reboot with this fortnight off and get some cattle back after the break.
"B Grade is such a strong competition that the teams in the middle of the table are really competitive as well."
The Club would like to wish both Josh and Louis the best for the game. No doubt they will represent the Blacks with distinction.