Dr Brian Costello (Snr) died peacefully last Monday. He had turned 100 on Christmas Day.
The Doc was a Life Member of the MUFC (Blacks). The first Blacks game he attended was Round 1 at  Elsternwick Park in 1967, "and he never left!" He remained involved with the Blacks from then on. Son Tony was playing his first game that day and was later joined at the Blacks by his brothers Brian (Jr), Tim, Jack, Simon (aka Harry) and Frank. Grandsons Andrew, Dan, Liam and Ben also were Blacks players. 
Brian became the Blacks doctor from then until passing the doctors bag to Tony and it has now been passed onto Dan. Fifty plus years of service from the Costello family - a great record and it is not finished yet.
The Doc's no nonsense persona barely hid a very caring person who treated all Blacks players with care and respect. He didn't believe in a local anaesthetic ("it makes it bleed more" or "it's one prick with the local or two with the stitches") but no one was seriously hurt and we all enjoyed telling the story later. 
Brian's care was not limited to medicine. He managed the famous MU Intervarsity Team that won in Canberra in 1974. No doubt his responsible manner enabled the team to escape trouble in Wangaratta and later to have Misters Cummings and Higgins released from police care to play a match later that day. At the time that Intervarsity must have caused him anxiety but he loved telling the tales later with a quiet chuckle. Brian was awarded Life Membership of the MUFC in 1975.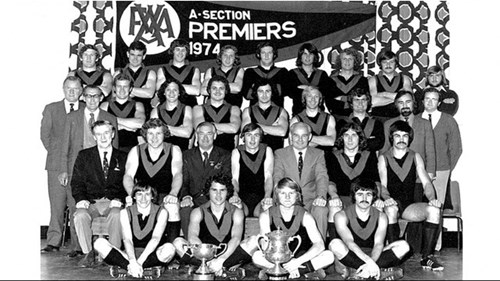 Brian was made a Life Member of the VAFA in 1992 for 15 years of service as a doctor to VAFA representative teams. In 2014, when Simon Costello was awarded Life Membership of the VAFA, they became the first father/son combination to hold life membership in the Association.
A funeral service will be held at St Carthage's Church,  Royal Parade, Parkville on Monday January 7 at 11.00am. Following the service, the Costello family welcomes you back to the Pavvy for an afternoon to celebrate Brian's life.
The University Blacks play tribute to one of the greats of our Club, the MUFC and the VAFA and our thoughts are with the Costello family.

Nick Carah
Chairman - University Blacks FC