Those who carve out strong careers for the Uni Blacks often exhibit the values that make this club great – mateship, courage, determination, and of course the Blacks Acts. Zach Harris continues to demonstrate many of these qualities for the Uni Blacks, and the reliable midfielder will run out in his 100th match this weekend against Old Xaverians for the mighty Phoenix this Saturday morning.
Zach first joined the Blacks as part of the U19s footy factory in 2014/15, serving a solid apprenticeship before playing his first game of Reserves football in 2016. Hailing from Ballarat, 'Hack' is a nugget midfielder who loves to harass, smother and fight for the contested ball. Put simply he is someone who typifies the modern Uni Blacks player.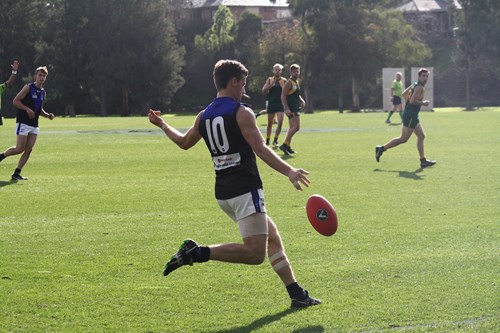 Above: Hack in full flight 
'Hack' is the sort of player you hate playing against but love having on your team. Whether it be his tenacity at the ball, his over-zealous goal celebrations, or simply how he sticks up for his teammates on the field. He is a highly respected person at the club and someone who you'd love to have in the trenches with you come match day.
We sat down with Hack and ask him about his time at the Blacks in the lead up to his milestone game…
Why do you love the Blacks?
 "This is difficult to sum up. It's a combination of things I reckon. I love playing football but I love the Blacks more. The club is truly inclusive, attracts genuine and caring people, and just makes you want to get caught up in the magic of the place and believe in something more than just premierships (although these don't hurt). Footy is a simple game. Sometimes you win; sometimes you lose. Basically, I love being a part of it and hopefully I can leave the club in as good a spot as when I first came."
Favourite Blacks moment?
"By the length of the Flemington straight, every single win I've had at the Uni Main. Getting to relax in our first class change rooms after playing Reserves, sitting back and having a laugh with your best mates knowing you've worked hard together. Nothing really trumps that feeling."
Favourite teammate?
"All-time favourite - Will Mills (speaks for itself).
Current favourite – Max Gray. I first met Max in 2014 when he was our water boy for the U19's. This was due to his father (and then U19s co-coach) Justin's insistence on Max getting down to help. He's great for a yarn, never gets ahead of himself, and loves memes."
Least Favourite teammate?
It is a bit of a testament to Hack that he couldn't think of a single teammate that he didn't like.
Congratulations Hack on a fantastic career so far, and what is one of many milestones to come.