If you want to see an example of a quiet and diligent achiever at the Uni Blacks, Braden Poole is almost the textbook definition.
The reliable defender will run out for his 100th club game this weekend, six years after first pulling on a Blacks jumper.
Moving down from Albury in 2013 for university study, 'Pooley' served a two-year apprenticeship in the Under 19s before moving into the Reserves and Thirds teams, being called upon as required across both grades.
He won the 'Rising Phoenix' award in 2016 and was part of the Phoenix's semi-final side last season before splitting his time between the Reserves and Phoenix again in 2019. Usually holding down a back pocket or flank and playing on some of the oppositions most dangerous forwards.
His parents have also been great supporters of the Blacks, regularly attending games to watch their son.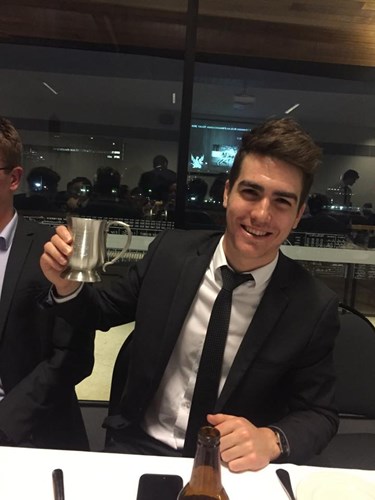 Above: Pooley with his Rising Phoenix award in 2016.
We sat down with Pooley during the week to reflect on his Blacks career to date…
How did you get down to the Blacks, Pooley?
"I moved down to Melbourne from Albury back in 2013 for university and was keen to keep playing footy while I was down here. I was in the car with mum and dad on the way down to move my stuff into college when I got a phone call from an unknown number. It turned out to be the Uni Blacks head of under 19's recruiting (and all-round club legend) Justin Gray, inviting me to come down to training on the Uni Main. I decided to come down for a kick and have stuck around ever since."
Why do you love the Blacks?
"The culture is definitely the biggest reason why I love playing for the club. The Blacks has an amazing ability to attract genuinely good people to the club which creates a really enjoyable environment both on and off the field. It doesn't matter where you've come from or what your level of ability is, everyone feels welcome at the Blacks which is the reason why so many people stick around for such a long time. I've certainly been lucky enough to build some great friendships at the club during my time which will last long after I finish playing."
Do you have a favourite teammate?
"I've had the pleasure of playing with some amazing blokes over the years but if I had to pick one, it's hard to go past Zach Harris. We both came up through the Under 19s around the same time and have played a lot of footy together since then. I've never met anyone as passionate about their footy or their club than Hack!"
Any Blacks career highlights you'd like to mention?
"After playing the majority of my Blacks career as an honest defender, I managed to sneak forward earlier this year for the Phoenix against Old Melburnians and snag a goal which broke a 5-year personal drought. Fair to say I carried on a bit afterwards!"
We also got some thoughts on Braden from his favourite teammate, Zach Harris…
"Pooley is simply an honest and down to earth guy who always takes the time to stop and ask how you're going or how work is travelling and is a very caring teammate. He rarely gets BOG awards or kicks Eddie Betts-like goals, but it's people like Pooley sticking around for six years that make the Blacks a quality club full of genuine people. He always turns up to pre-season ready to challenge himself and playing 100 games in six years is a testament to his durability. Constantly flies under the radar but is as crucial as anyone to the club being great."
Congratulations Pooley on 100 quality games with the Blacks.