Cameron Wood has been appointed as the new Head of Football at the University Blacks Football Club, in what is a major acquisition for all four of the Club's sides. After a bitter and frustrating conclusion to the end of the 2021 Season which had promised so much for the Club, Wood's signing brings forward some genuine cause for excitement, which we cannot wait to see bear fruit in 2022. 
Cameron expressed a keen desire early on to become involved with the Club, one which he describes as having "a strong competitive history" while aiming to "share the experience he has been lucky enough to have with different Clubs, levels and people." Cameron is "tremendously excited to work alongside Dale Bower and Rob Paterson in supporting all teams that represent the University Blacks Football Club."
Originally from South Australia, the experience Cameron refers to, includes his 88 game AFL career, where he laced up the boots for Brisbane, Collingwood and Carlton from 2005-2015. Nowadays, Cameron has been using his skillset to educate the local minds of the future, as a teacher at Carlton Primary School.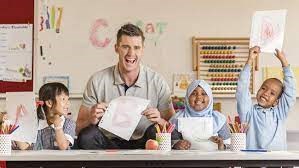 Cameron with some of his prep students, taken in 2018. Source: Jason Edwards, Herald Sun.
Accordingly, the revived Head of Football role at the Blacks will no doubt suit a person of Cameron's values, coupled with his desire to "make a difference" for the playing group. The Head of Football role will see Cameron engage with players from all grades, helping to cover the need for more player development (on and off-field) and providing support for our coaches week to week. 
Senior Coach Dale Bower highlights that "Cameron's very rounded experience in Football, background as a teacher and down-to-earth personality made him an ideal appointment for the role", but that more importantly he meets the true Blacks tradition of "just being a bloody good bloke."
The Club very much looks forward to seeing Cameron in action with our impressive playing group, eager to see the impact he will have on our players, young and old alike, when pre-season training commences later this year.