University Blacks reach half way point of 2021 season, with their best footy still to come
As the days draw shorter and the mornings become crisper, the half-way mark of the 2021 VAFA Season will be crossed this Queen's Birthday long-weekend, albeit not that the past fortnight has featured any games. The University Blacks players and coaches have dealt with everything that has come their way over the past 18 months with true character, resolve and determination.
To steal a line from Richmond FC, "whatever stands in the way becomes the way"; the 2021 Blacks are a strong-willed tribe that will come out of Lockdown 4 bigger and better, with their best football still laying ahead of them despite their strong ladder positions come half-way.
Despite the lack of on-field football news to report on of late, it was still our intention to recap how each team is placed at the mid-way point, shining the spotlight on some key areas in the process.  
In short, the Club is well placed in the Seniors to challenge for the title, with our sights firmly set on the silverware and prized promotion that awaits the last club standing come September. The Reserves have been largely in step with the Seniors, again providing great depth to supplement Senior selection, whilst playing some seriously good players through the team at times too. The Phoenix have had a swollen belly full of numbers, which is great to see. Week to week it can prove difficult with player changes, leading to inconsistent game-play, but all in all, the team is highly talented with great spirit and is sitting one win outside of the finals. Lastly, our Under 19s have provided some genuine highlights so far, with a terrific crop of young men all investing large with their time at the Club, which can only be a good thing in the long run. 
Come game-days, Footy Operations Manager, Jeremy Hua, comes into his own. Nicknamed the 'Huanator' for his precision and attention to detail, Jeremy is a true asset for the Club, consistently going outside of his role to cover all bases on game-day. Along with Jeremy, Peter Bertoncini, Mick & Steve Commadeur, Pete Keogh and Adam Pattison are regular match-day volunteers; all fantastic supporters of the Club and we can't thank them enough for their time each weekend. Peter and Pete deserve special shout outs, as each weekend they consistently make the commute, individually, from different parts of country Vic to help goal/boundary umpire & water boy. The Club extends its thanks to them and all of our volunteers so far this season!
Senior XXII
7 games played, 6 wins, 1 loss. 160.5%.
The Senior side has been lead strongly from the top-down, with Senior Coach Dale Bower a calm and steady hand for our troops at each game and training session. Dale has slotted into the position of Senior Coach very well despite the difficult and at some points straight out bizarre times throughout 2020/21, managing each challenge with aplomb. Ably supported by Nathan Moon, and Murray Schneider, the players have certainly evolved their game-plan to one of a tight defensive unit that counter attacks with precision and in a hurry. 
Bower noted that "at the half way mark of the year we are travelling ok, our loss to Old Haileybury aside was disappointing, but I feel like we learnt a fair bit from it and will benefit as a result." Haileybury were an impressive outfit that day, but with further room for improvement in consistency and a couple more returning players from injury (Bede Mahon, Mitch Rodd, Joel Ernest), the best definitely does lay ahead for the Seniors. 
Over Lockdown 4, the players have been mighty in maintaining their conditioning levels, frequently sending messages of evidence and support throughout the array of whatsapp and facebook messenger groups that the team has. The aim of returning for games at the moment is set on Round 10 (vs Fitzroy at the Uni Main), and the lads cannot wait to return to formal training to hone their skills again. 
Remaining optimistic about the fortnight layoff, Bower remarked that "we are working hard to improve our footy weekly and I am certain, our best footy is well and truly in front of us. As a new coach I have really enjoyed working with the players, coaches and other footy and medical staff."
2021 at the Blacks has been a strong bounce-back year after 2020, and it might just be our year come September this season!
Reserves XXII
6 games played, 5 wins, 1 loss. 228.91%.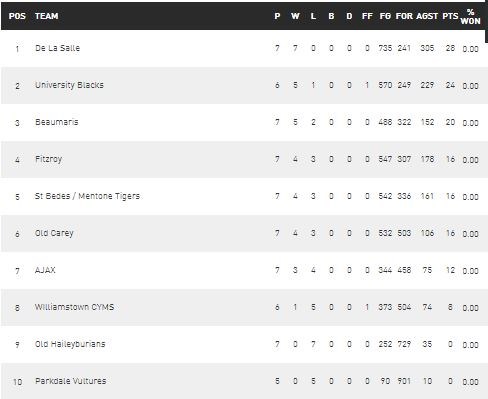 At the mid-way point, the Reserves have only played 6 games, owing to an unfortunate forfeit from the struggling Parkdale Vultures. Add in the recent 2 week layoff and it could be argued that the Heart and Souls have had a tough time finding their groove in the first half of the year. Not a chance that is the case though, with former Blacker Rob Paterson at the helm, the team is up and about in 2021, following in their footsteps of 2018/19 and challenging to be the best reserves unit in Premier B. 
41 players so far have played for the 2's, which is really pleasing for the coaching staff seeing such a mix of players. Whether it be Senior players returning from injury through the Reserves, Heart and Souls' players in their rightful home or players pushing their case via football in the Phoenix, the coaching staff have embraced the selection battles each week and are doing a great job across the board with this. Tom Cousins and Lewis Steere (co-captains) have additionally been tremendous in rallying their teammates at training and games, in that typical Blacks' Reserves spirit that is treasured at the Club. 
Introducing a few subtle changes to perhaps the typical Reserves game-style of slow contested footy, Rob Paterson has been pleased with the results so far, culminating in a 96 point thumping of AJAX in Round 7. 
"The entire clubs ability to deal with the 2020 season that wasn't and what has happened so far this year has been great, and the players remain highly engaged.  Some of the FB & WhatsApp posts over lockdown keep things interesting but I am concerned that Steerey might be dreaming of the "Tour" in 22'.  We are all hoping that Round 10 Vs Fitzroy at home goes ahead, so we can continue to develop as a group and spend time together, which for me is the best part of the week!!"
Naturally, the Reserves are one of the more dynamic teams for selection each week, and some players to watch in the back end of the season could be, Hamish Rowlands, Winston Twigg, Henry Robertson, Xavier Chalkley, and Nick Caris. We wouldn't be surprised if a few of these guys get an opportunity at senior level in the second half of the year!
 Phoenix XXII
7 games played, 3 wins, 4 losses. 77.77%.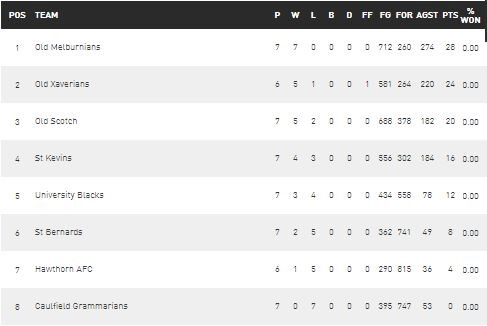 The Phoenix have had a rollercoaster season at the start of 2021, riding some great highs and tough patches along the way. The year marks the first without Phoenix stalwart and supreme clubman Sam Lane, as he has rightly passed the baton on to the next generation so he can spend more time with his young family. 
And so, with a lack of candidates to fill the void of coach and team manager, the formation of a player-led coaching group has taken hold. Callum Farrell, Rohan Cleary, Josh Leviston and a couple of other senior players have done an incredible job stepping up, running training sessions, organising gear, making tough selection calls, and truly going above and beyond for the sake of the Club and their team. Supporting the leadership group is a true god-send, Rachelle Maitre. Rachelle is team manger, taking on a lot of the game-day tasks that were usually taken care of by Lane. She has done a magnificent job so far, riding the ups and downs of game-day with great passion and care. 
On-field, the Phoenix this season are a highly talented team, that "has a lot of potential... [being] a bit hot and cold at times" according to Farrell. Selection changes each week have been sizeable, with close to 60 players now having played one game for the side. Naturally, consistent performances with such turnover can be hard to maintain; the team sit a game outside of finals with a 14 game season to be played. 
Showcasing the calibre of the team, the Phoenix went down by a measly point against ladder leaders, Old Melburnians, in Round 2. Furthermore, training numbers have been excellent so far, with in excess of 20 players attending each session, numbers we don't usually see too often as the season progresses. This is a testament to the vibe among the Phoenix currently, one which the players will be raring to harness once games start up again. 
Under 19s XXII
7 games played, 1 win, 6 losses. 66.60%.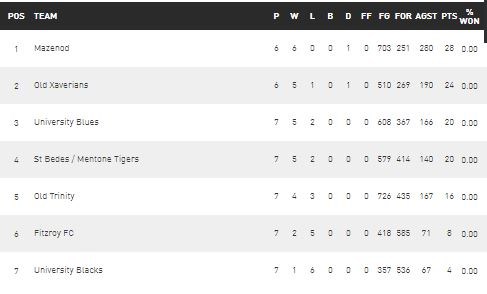 The season so far for the Under 19s has been rewarding. The side is spoiled to have a coach of the quality of Shane Sexton, and despite only racking up one win to date, the team is nevertheless "very competitive with the most important aspect being [their] ability to contest" , according to Shane. "As coach I have been very pleased with how the boys have gone about playing each and every game." The quality of the competition is of the highest level, as several re-gradings from the VAFA have altered the make-up of the teams, leaving the Division quite uneven, 
The highlight of the season without doubt has been the breakthrough win against Old Carey, which was "very rewarding for the group and terrific to sing our theme song after the match."
Over 40 players have pulled on an Under 19s jumper by Round 7, with several players selflessly putting their hand up to play at Brunswick as per our loan agreement with them, which is ultimately very beneficial to both Clubs. 
Individually, a couple of our Unders have shown excellent promise, and will begin training with the Senior training squad once we resume sessions. 
Unfortunately, some serious injuries to players have at times put a sour note on the progression, which is obviously disappointing for the boys involved and the Club certainly does wish them the very best with their recoveries. 
As is the routine by now though, the Under 19s jumped at the chance to provide us with some content of their own, summing up their season in their own eclectic but highly entertaining way:
The Under 19s mid-year report covers the first nine rounds.  Which is half of 18.  Less the last two.                  So MYR = S/2-x where x represents U19 games deficit.
They are a magnificent bunch these U19s. Buoyant, resilient, joyful. Take one example: pre-season bus trip to Croydon practice match and blow me down the post-match BBQ appears stymied by the one-year-old birthday party monopolizing cooking facilities. Did the lads miss a beat?  Perish the thought - some subtle negotiations and a few autographs later we are sorted for sausages and paprika onions just before the baseball bats hit the piñata. A joyous trip home unearthed some fine baritones and tenors caressing the Blacks song in the most dulcet of tones.
It's a hot comp this year with every week a challenge and the boys have been terrific. The one thing coach Sexton demands is Effort, with a capital F, and he has not been disappointed. While there's just been the one win to date, we have been in nearly all games till the last quarter and have shown plenty.  
We'll tell you this for free - no shortage of bright prospects. Nick Caris has already exceeded his U19 quota of power pack marks and been kicked upstairs.  More to follow from this group in the future without a doubt. 
There's a lovely atmosphere building around the team with wonderful support from family and friends. Such as Hoges' dad, Hoges. Not to mention, numerous Blacks legends who have been helping out big time with umpiring.
And so we press on, with a song in the heart, sails to the wind and eager to continue deploying our trademark three D's: desperation, determination and guts.
Beautifully put lads. It would be remiss of us to not give a special shout-out to our other superstar team manager, Schenelle D'Costa. Schenelle has been front & center at each game, enthusiastically providing valuable support logistically. Shane, along with assistants Murray Schneider, Stephen Connelly and Bruce Warren, have been able to keep their focus on-field, with the off-field concerns and box ticking never a worry with Schenelle at the helm. Thank you Schenelle! The gentlemen are very appreciative of your slick service.