The 2018 season is well an truly upon us, with round 1 seeing the University Blacks taking on Mazenod at the University Main Oval on April 7th. 
Before the season officially kicks off we're taking one final look at the prospects ahead for the senior and reserve teams!
Seniors - (4 Wins, 14 Losses - Premier A, 2017)
Coach: Cameron Roberts 
Cameron Roberts is again on board leading the senior team through the 2018 season. 2018 will see the University Blacks attempt to navigate their way through Premier B in a bid to return to the top echelon of the VAFA competition. 
While the 2017 campaign was a tough one in terms of results, the number of younger players who developed in the senior side was promising. Players like Tom Peyton, Lachie Haysman, Joshua Kimpton and Lewis Steere all got a chance to prove they have what it takes to be long-term senior players for the club. These players will be looking to build upon this foundation in the coming season.
2017 Woodrow medallist Bede Mahon will again line up for the Blacks senior side, alongside a core of returning Blackers including Joshua Steadman, Hugh Curnow, John Vrodos, Lachlan Huntington, Angus Locke, Charlie Richardson and Lochy Dornauf among many more. Jordan Quaile will hit the park again in 2018 and will be hoping that he left the injury curse well an truly back in 2017. Joel Ernest, a newly VFL listed player with Richmond will be looking to bring with him the form he showed in 2017 in 2018 when not selected by the Tigers.
The club also welcomes a large number of new recruits who will look to make an immediate impact at the Blacks. Lachlan Knight, Matthew Burt, Sam Collins, Louis Vescio, Joel Beasley, Jarrod Carlson and Joshua Broderick are all names to look out for in 2018 and we're confident that they'll find their feet quickly at the Blacks.
Overall it's a promising season ahead for the senior team and we see no reason why the team won't be pushing for a finals position in 2018!!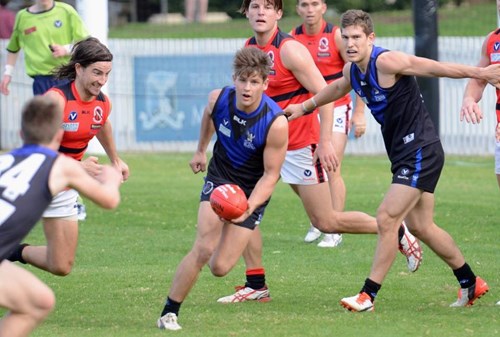 Reserves - (4 Wins, 14 Losses - Premier A, 2017)
Coach: Linc Merlo
The 2018 season will see Linc Mero again at the helm for the reserves team. The win/loss column didn't tell the full story of how competitive the reserves team was in 2017 and Linc will be looking to reverse this in 2018.
A host of Blacks players from last years reserves team will be looking at the 2018 season as their chance to stake their claim for regular senior matches. Promising signs from Jordan Tunbridge, William Mills, Edward King and Samuel McKenzie could see them feature in the senior side this season.
While the team will look quite different in 2018 compared to 2017, Linc can rely on a number of experienced players to pilot the ship for the coming season. Scott Myers will be keen to show everyone that his legs have a few more years left in them and players like Peter Aitken and Zach Harris will be ready to provide strong leadership and support for the new Blackers in the reserves team. 
Alex Hayward (Phoenix) and Billy Peters (U/19s) are two returning Blacks players from lower grades who will be looking to make reserves football (and potentially senior football) their home in 2018. We're also more than confident that over the course of the season the Phoenix side will be placing considerable pressure on all players who hold a reserves spot, which will ultimately lead to better performances on a whole.
It can always be tough start in the reserves given the high turnover of players from year to year, but from what we've seen on the track in these early months we're confident that 2018 will be a successful season.