It's been a largely successful period for the club since our last write up, with the Seniors and Reserves continuing their push for the 2018 finals in Premier B. Here's what's been happening in each grade over the last few weeks...
Seniors (10 wins, 2 losses)
The Seniors continue to march towards September, currently sitting second on the ladder with a healthy percentage of 173.31.
St Bernards have had the better of the Blacks in their two home-and-away season matchups, with a 64-point win at the Snakepit in Round 7 and a hard-fought 17-point triumph at the Main a couple of weeks ago.
Otherwise, the Seniors have shown their class on a number of occasions. The Round 10 win over Ajax was character building, overcoming a 28-point deficit at quarter time to run away with a 75-point win.
A crunch game against Old Carey on July 21 looms with both sides still jostling for a coveted top-two finish.
Cam Roberts and his coaching staff have done a tremendous job this season with a fairly young playing group who are eager to be promoted back to the Premier Division of the VAFA in 2019.
A special mention also to Joel Ernest (in action against Coburg below) who recently made his VFL debut for Richmond.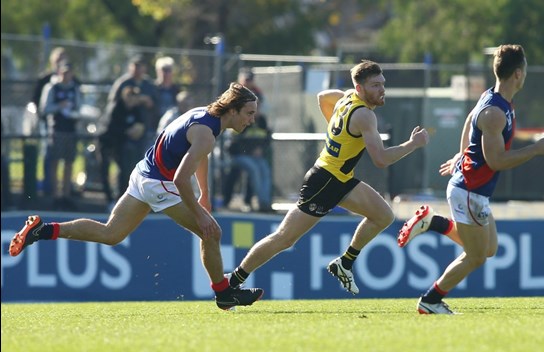 Reserves (9 wins, 3 losses)
The Reserves also find themselves in a good spot with six rounds left in the 2018 home-and-away season, sitting third on the ladder and a game clear of fourth-placed Old Carey.
Linc Merlo and his playing group have dropped just the one game since Round 7, coming up against a strong St Bernards side prior to last weekend's bye and falling 16 points short of a win.
Again, the July 21 fixture against Old Carey will prove crucial in the make-up of the top four, so the boys will be keen to put their best foot forward. Carey took away a ten-point win from the previous meeting in Round 8. A match against top-placed Beaumaris in Round 17 will also prove a stern test.
The highlight from the last six games was a dominant 112-point win over Old Haileyburians in Round 9, which provided a healthy percentage boost.
Well done to the best club secretary in the VAFA Scott Myers who played his 150th club game against Ajax a few weeks ago. Onya Scoot!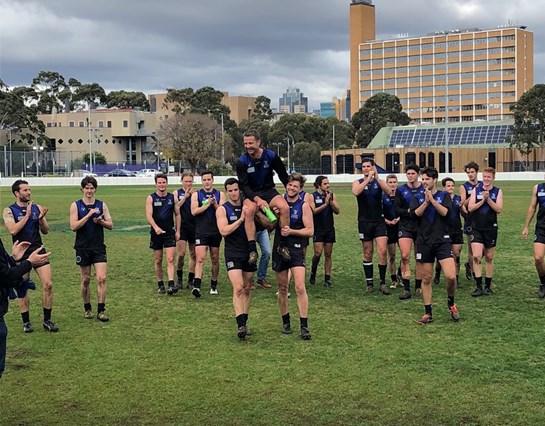 Phoenix (5 wins, 7 losses)
The Phoenix continue to box on in the Premier Thirds section of the VAFA and are still in the hunt for finals, currently sitting sixth but just four points off fourth-placed Old Scotch, who they meet in a few weeks' time.
Some really impressive achievements so far this season including defeating Premier-aligned Old Xavs, Collegians and SKOBs, and best of all a massive win over the Uni Blues. All while debuting a number of new players.
Well done to the coaching staff and players who continue to turn up on a weekly basis and pull on the Blacks jumper.
The highlights of the last few weeks of footy were hard-fought wins over St Kevins Green (16 points) and St Bernards (7 points), which have kept the Phoenix in touch with the top four.
A special mention also to the Phoenix and St Bernards, who came together after their game a couple of weeks ago to remember Eurydice Dixon who lost her life at Princes Park in June. A terrific representation of what our club stands for both on the field and in the broader community.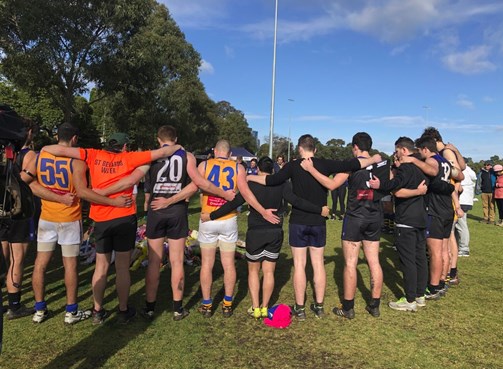 Under 19s (1 win, 10 losses)
It's been a testing time for the Under 19 side as winter has set in. Despite a number of competitive performances, the boys haven't been able to add to their Round 2 win over Old Carey.
The remaining six games present some opportunities to break the drought, however, with the Blacks due to face Old Melburnians (ninth), Fitzroy (eighth) and Old Ivanhoe Grammarians (seventh) on the run home.
Well done to the coaching staff, volunteers and players who continue to turn up for the Under 19s. The team is an important place to foster young players who then filter up through the higher grades.
Over the last few seasons, we have had a number of players who started in the Under 19s become established senior players, underlining just how important the team is to the overall health of the club on-field.