Form
Round 1 – Lost to Old Trinity by 2 points
Round 2 – Lost to Collegians by 23 points
Round 3 – Lost to Uni Blues by 18 points
Round 4 – Lost to De La Salle by 3 points
Round 5 – Won against St Bedes/Mentone by 33 points
Round 6 – Lost to Old Melburnians by 56 points
Round 7 – Lost to St Kevins by 80 points
Round 8 – Lost to Old Xaverians by 28 points
Round 9 – Won against Beaumaris by 3 points
Round 10 – Won against Old Trinity by 18 points
Round 11 – Lost to Uni Blues by 21 points
Round 12 - Lost to Old Melburnians by 27 points
Round 13 - Lost to St Bedes/Mentone by 23 points
Round 14 - Lost to De La Salle by 1 point
Round 15 - Lost to Collegians by 39 points
Round 16 - Lost to Beaumaris by 6 points
Round 17 - Won against Old Xaverians by 71 points
Round 18 - Lost to St Kevin's by 20 points
At a glance
It was a tough 2017 season for the senior team as the Blacks were relegated to Premier B, trailing St Bedes/Mentone by half a game on the ladder. More disappointing for the club is the fact that they were beginning to find their form in the second half of the season. This is cannot be better illustrated by the massive 71-point win over Old Xaverians in round 17.
The team then faced a must win clash to stay in the Premier division in the final round against ladder leaders (and eventual Premier winners) St Kevin's Old Boys. The Blacks showed their trademark fight and spirit, but fell just short against an extremely classy team. 
The Blacks were left to rue close results to De La Salle in rounds 4 and 14, Old Trinity in round 1 and Beaumaris round 16.
Standout performers 
Hugh 'Curns' Curnow
Curns showed again in 2017 why he is one of the most destructive players on the Blacks list, winning back to back Cordner medals as Best & Fairest for the Blacks senior team. His dash from the middle of the ground was on full display all season and he managed to hit the scoreboard for 13 goals this season. His fine form culminated in being selected to the VAFA Premier Team of the Year.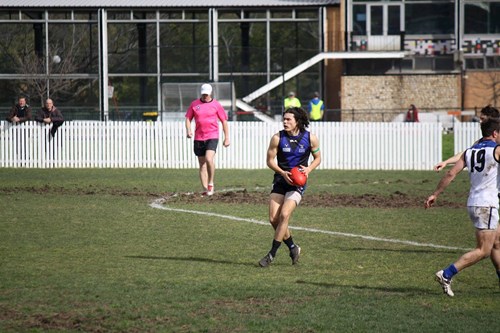 Bede 'Weapon' Mahon
Weapon lived up to his nickname in season 2017, again providing so much for the Blacks on and off the field. His fine form was recognised by the VAFA as he went on to win the Woodrow medal as the Premier competition's Best & Fairest. Weapon's season was again one typified by his courage and determination to win every contest that he was in. At times Weapon can become a victim of his own standards, but he is a strong leader who the Blacks continuously look to as an example. With his Blacks resume continuously growing he is putting himself in discussions as one of the best to have ever pulled on the Blacks jumper.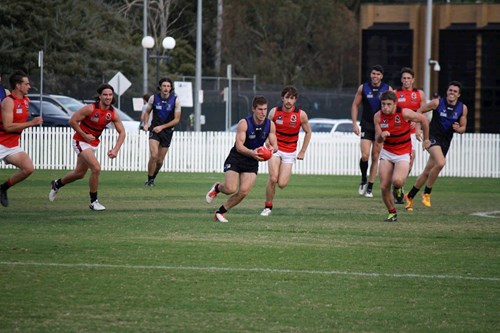 Lochy 'Hollywood' Dornauf
Hollywood followed up a dominant display in 2016 with another huge bag of goals in 2017. Dornauf kicked 38 goals in 2017, finishing only 11 goals behind the leading goal kicker in the Premier division. In 11 of his 18 games played he managed to kick multiple goals, with two bags of six goals in the opening two rounds. His freakish ability to fly high for spectacular marks and kick impossible angled goals was again on full display in 2017.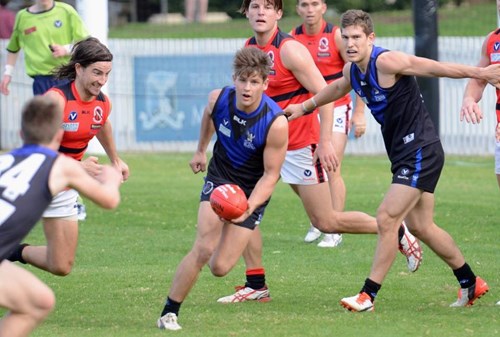 Looking to the future
The Blacks should take plenty out of the disappointing 2017 season, with their form at many times above that of their ladder position. Confidence should be gained from the number of senior debuts made this season from promising future Blacks stars! Coach Cam Roberts will be looking to these players like Tom Peyton, Chris Duck, Thomas Monkhouse and Josh Kimpton to lead the charge back up from Premier B in 2018.
If the club can retain its core of young stars like Joel Ernest, John Vrodos, Sam Bennett and Josh Steadman then they should be able to enjoy a successful 2018 in Premier B.