Form
Round 1 – Lost to Old Trinity by 2 points
Round 2 – Lost to Collegians by 23 points
Round 3 – Lost to Uni Blues by 18 points
Round 4 – Lost to De La Salle by 3 points
Round 5 – Won against St Bedes/Mentone by 33 points
Round 6 – Lost to Old Melburnians by 56 points
Round 7 – Lost to St Kevins by 80 points
Round 8 – Lost to Old Xaverians by 28 points
Round 9 – Won against Beaumaris by 3 points
Round 10 – Won against Old Trinity by 18 points
Round 11 – Lost to Uni Blues by 21 points
At a glance
It was a tough start to the year for the senior side. Their first four games were all decided by 23 points or less, with two of those games being decided by less than a straight kick.
The drought was broken against St Bedes/Mentone Tigers in Round 5 with a 33-point win, before a couple of heavy losses to the front running teams in the Premier division.
A high-scoring shootout against the newly promoted Beaumaris resulted in a narrow three-point win in Round 9 and the Blacks then backed up that performance with a stirring 18-point victory over 2016 grand finalist Old Trinity on their home deck.
Another loss to the Blues in the second Uni Derby of the season has them placed in ninth spot on the Premier division ladder, but only two points separates them from seventh-placed St Bedes/Mentone Tigers, meaning they could climb the ladder quickly with a couple more wins.
Standout performers
Lochie Dornauf has been a constant threat in the Blacks' forward 50 this season, booting 23 goals through 11 games. That included back-to-back bags of six majors in the opening two games of the season against Old Trinity and Collegians.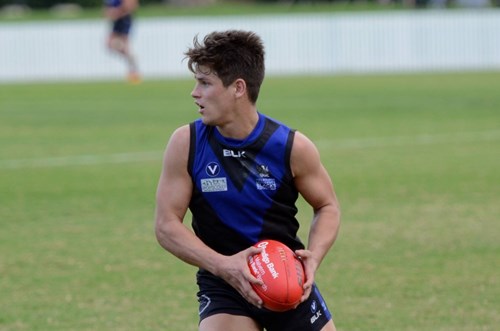 Lachlan Huntington has also had a terrific individual season to date. Initially starting the year as a key defender, he has been moved forward in the last three matches with great effect, kicking ten goals in total including a bag of six against Beaumaris in Round 9.
After suffering a couple of leg injuries last season, John Vrodos has played some terrific footy this year as a forward/midfielder. He's been named in the best players on six occasions and has three bags of three goals to his name.
Players to watch for the rest of the season
Harry Allen has taken his game to another level as an inside midfielder this season. Rarely tackled by opposition players, Allen is able to feed the ball out of a stoppage by hands in the tightest of spaces and has become an integral part of the Blacks' engine room.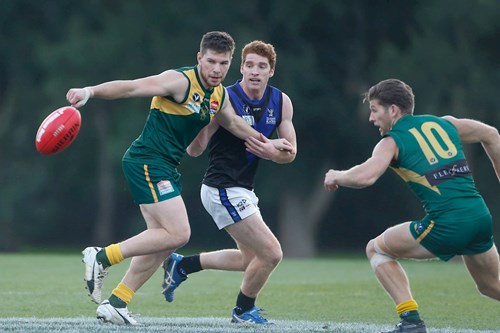 James Toohey has been a terrific fit for the Blacks backline this season, slotting in as a key defender and intercept player. His performance against the Blues last week was a standout, as he took a number of marks across half back to set the Blacks up to attack going the other way.
Lachie Haysman has been a revelation since debuting in Round 8. After starting the year with the Under 19's, Haysman has slotted into the senior team as a small forward with pace to burn who can also push up onto a wing. He's not afraid to get his hands dirty, despite being lighter-framed than most of his opponents.
Games to come
Round 12 vs Old Melburnians (H)
Round 13 vs St Bedes/Mentone Tigers (A)
Round 14 vs De La Salle (H)
Round 15 vs Collegians (H)
Round 16 vs Beaumaris (A)
Round 17 vs Old Xaverians (H)
Round 18 vs St Kevins (A)